"Your brand takes 20 years to develop, but just 5 minutes to destroy"- Warren Buffet. The first step in starting a new business is to create an online store and market your brand. To reach customers, you should raise awareness. The provision of a seamless shopping experience should come next. What advantage would there be if you were unable to satisfy your customers? Your company's ability to ship can make or break it.
To simplify your delivery, you can use tools like the PrestaShop Delivery Boy app and Prestashop prefer delivery time by Knowband. Your company's ability to ship can make or break it. To simplify your delivery, you can use tools like the PrestaShop Delivery Boy app. Continue reading to learn about the best practices you can use to enhance your PrestaShop store's shipping and delivery in 2023 and 2024.

1. Establish your Goals
Every company has certain distinct objectives. Similar to this, you can have some objectives for your deliveries, such as conversion, reach, sales, and customer happiness. Therefore, it is wise to establish your goals. It will aid in defining the kind of shipment you intend to provide. You can concentrate on the following areas:
Conversions
You shouldn't charge exorbitant delivery costs if your objective is to draw in more customers. Large sums will compel buyers to remove items from their shopping carts. A PayPal survey found that 44 percent of shoppers remove items from their shopping carts because of expensive shipping costs. You can offer them free shipping to avoid this. So if you want more people to make orders, emphasize free shipping. They can choose from a variety of shipping and payment alternatives as well. The more choices people have, the better for your company.
Order Value on Average
Offer free shipping if you want people to buy more items. Free shipping is not actually free, as we all know. For you, that means low margins. But there isn't a choice. Customers increasingly anticipate that all online retailers will provide free shipping, thanks to major brands. And you can put it into practice with a quick trick. Check your profit margins to make sure it has no impact. Use tactics similar to those used by Amazon and provide free shipping for purchases over a certain amount.
Costs
For most industries, lowering costs is a top priority. Try outsourcing fulfilments if you want to cut costs. For deliveries, you can even switch to less expensive courier services. Bring in apps like the PrestaShop Delivery Boy app if you're doing it yourself to automate processes and help you save money.
A large Audience
By 2023, about one-fourth of eCommerce stores will be international. As a result, if you want to grow your company, offer options like in-store pickup, local delivery, quick delivery, affordable international shipping, etc.
2. Provide a range of Shipping Choices

Do you know why the eCommerce industry has prospered? Convenience, for sure! The correct response is "many options." Customers enjoy looking at a variety of options, whether they are purchasing garments or electrical device. Similarly to this, customers require comfort and convenience while buying their chosen products via their preferred shipping and delivery methods. They might, for instance, desire express delivery within a certain window of time or search for same-day or next-day delivery.
In addition, there may be other factors influencing the shipment cost, such as distance, weight, and location. Therefore, give customers a variety of shipping choices, including free shipping, free in-store pickup, table rate and flat rate box shipping, same day and next day delivery, and free shipping.
Discontinue free delivery for local consumers in favor of free in-store pickup, and while they are there, conduct upselling and cross-selling strategies.
Set various delivery costs based on the customer's location, the size, and the weight of the item. If you ship your goods to different zones, it will function best.
Implement flat-rate box shipping by providing clients with real-time prices based on the volume of orders.
For local clients, enable same-day and next-day delivery. Make it mandatory for perishables. Profit from same-day and next-day delivery alternatives by adding surcharges. To manage these orders, use the Delivery Date tool on PrestaShop.
Offer free delivery if the total of the purchases exceeds a certain number to encourage clients to make further purchases.
3. Make Explicit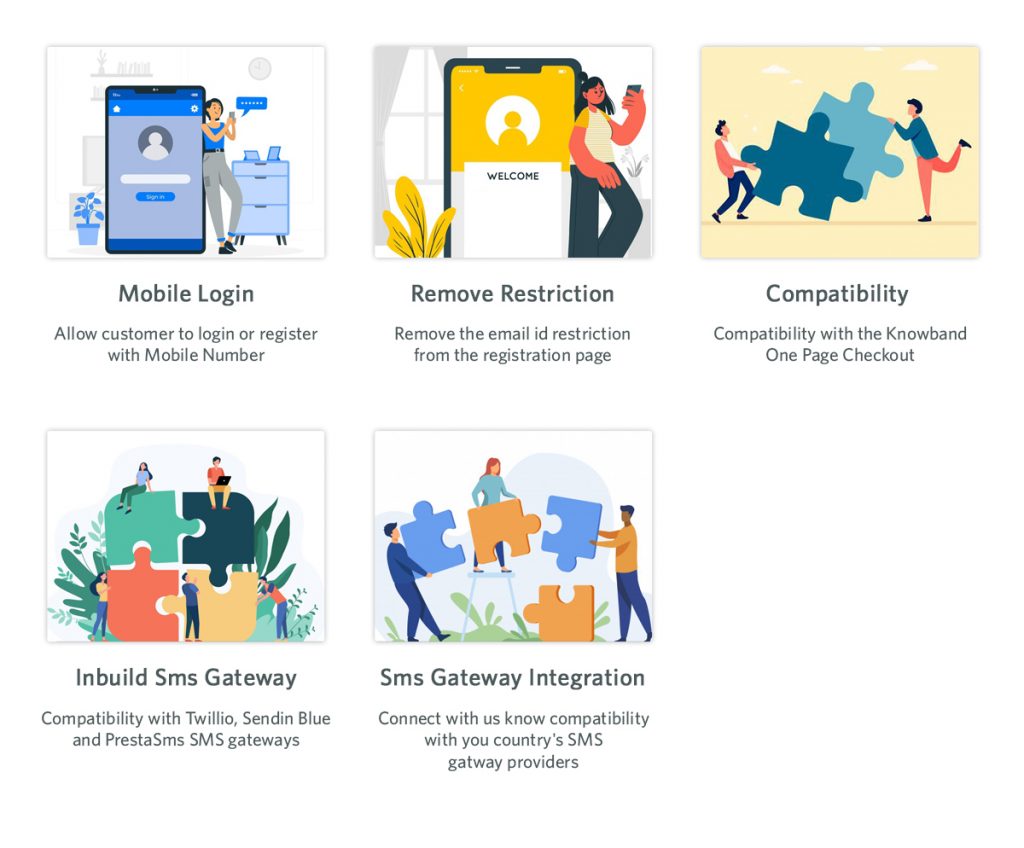 Keep everything straightforward and unambiguous. Give customers a comprehensive explanation of delivery schedules, shipping rules, and other topics. Include all the information on your website and in a location where customers can readily see it. By remaining transparent, you can prevent disagreements and cart abandonment at the checkout. Be specific about your shipping costs, for instance. Mention any specific restrictions and limitations that apply to order cancellation and return if there are any. Include item-by-item information when adding the fee, such as the base amount, taxes, shipping costs, and more.
4. Allow clients to make decisions
Free shipping and quick delivery are the main strategies for lowering cart abandonment. Allowing customers to choose the order's delivery date and time at their leisure will improve their overall experience with you. Due to the fact that the goods will be delivered when the customers are available to receive it, this feature is likely to reduce returns and undeliverables. Let them adjust it to their preferred time window, for instance, if they discover they won't be available on the chosen date and time. By including a PrestaShop Delivery Boy app, you may achieve this.
The app will provide you access to all the features that will enhance the shopping and delivery experiences for your customers. For instance, customers can choose no-contact delivery or a call to make sure they can pick up the package before delivery. Prior to checking out, users can also add notes and remarks to customize their buying experience.
5. Streamline Procedures
You can manage everything manually, but you shouldn't because doing so wastes time, leads to misunderstandings, and causes data loss.
Use a PrestaShop delivery date app to simplify the shipping procedure. You can manage several orders at once using this. Additionally, by providing the cut-off time, you can offer same-day delivery and even limit the number of deliveries. With the app, you may define order processing times on working and non-working days and shipment options, including the minimum and maximum number of deliveries. By specifying a work week and entering order data with a thank-you email, you can handle all of the orders.
The PrestaShop Delivery Boy app also offers a customizable delivery date picker, a limited delivery window, a minimum order processing time, the ability to watch deliveries in a calendar, the ability to print a packing slip, and other features.
6. Keep clients informed
You're mistaken if you believe that a successful checkout marks the end of the consumer experience. When clients are waiting for their delivery after checking out, the drive to improve the customer experience really gets going. Therefore, give customers a post-purchase experience by enabling them to check on the status of their order at each stage. Customize their experience rather than sending them to order tracking pages and third-party experiences.
You can achieve this by making the tracking page's design unique and targeting users with pertinent content based on their past behavior. maintain the lines of communication open. Send them emails and texts to keep them informed about the status of their orders, new deals, and other things.
In the End
Make an emotional connection with your customers. Give customers the impression that you are not just any random retailer. By automating your shipping and delivery procedures with the PrestaShop Delivery Date app, you can most significantly enhance their overall experience.
Try it out to find out how it can benefit you.