The Prestashop Related products module is an innovative tool that improves customer shopping experiences and website sales. This Prestashop similar products addon includes a feature that displays related items to clients on different website pages, including the homepage, product page, category page, etc.
Related product display locations can be defined by the store administrator. There are several strategies available for showing related products on multiple pages. The store administrator can set up the Prestashop-related products addon by following the instructions. On the product page, cart page, and order confirmation page, the administrator can additionally provide a keyword and attribute filter to show related products. By using the Prestashop alike product module,an administrator can decide how many related goods should be displayed at once.
Major Benefits of Prestashop Advance Related Product Addon

Every retailer needs high-quality traffic to achieve a respectable conversion rate. A customer might ignore a product on your website that is worthy of buying without advertising and assistance. Prestashop Automatic Related Product module makes certain that your client receives something from you.
Easy to Apply
By starting to type names, you can quickly and easily add a list of products as related items. Prestashop Advance Related Product Module also allows for product combinations.
Seek Customers
Whatever the season or occasion, cross-selling, up-selling, and complementary products are all excellent ways to increase sales.

Innovation
The comparable products module helps the store vary its product line and concentrate on different market niches. Once you learn about increasing sales utilizing the pertinent goods, you will seize the opportunity to uncover attractive niches and build premium versions of such products. In essence, it gives the retailer access to fresh products.
Make the Bounce Rate lower
There's a danger that customers who visit your online store won't find the goods appealing. Related Products stimulate the consumer to buy products with equivalent characteristics or price points. Additionally, it improves conversions and customer retention while lowering bounce rates.
Prestashop product cross-selling module
Many filters to Improve the Relevance
Display only items that are currently available and are linked to the selected items. Select a display strategy for comparable products, like:
Popular Products
Bestsellers
New stuff
Displaying relevant products based on past user behavior.
Product Centring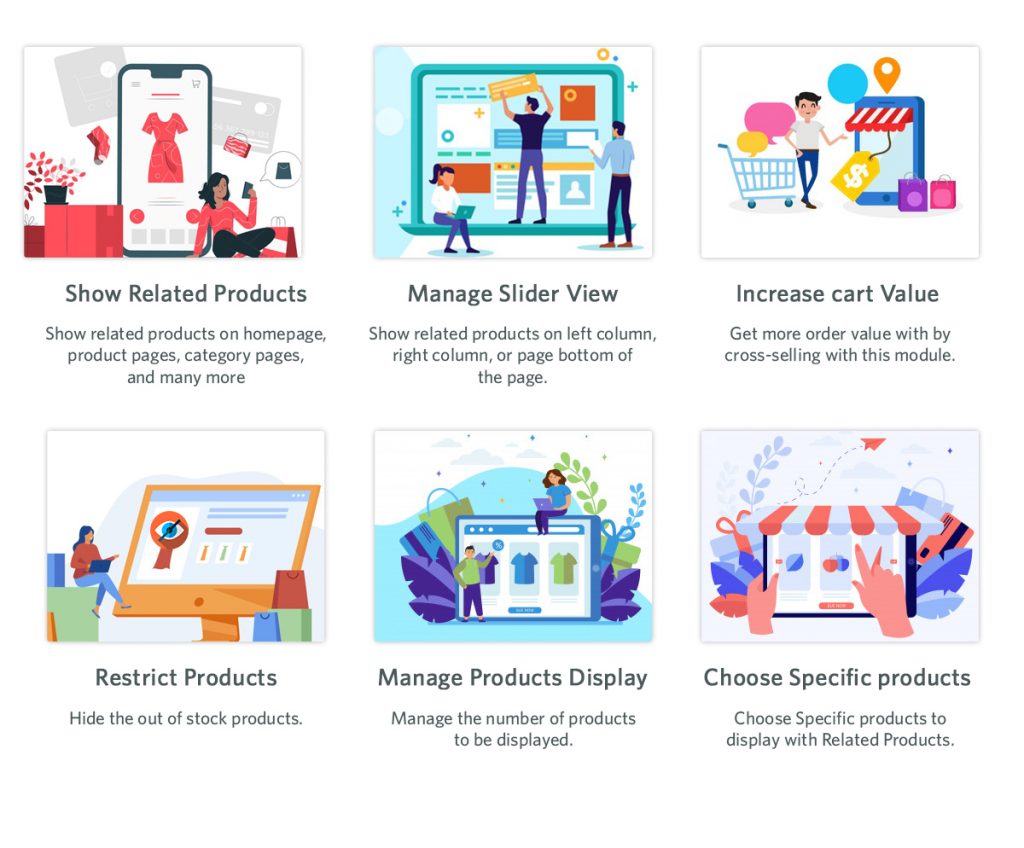 Using the Prestashop Automatic Related Product addon, the customer is presented with products that require attention. These components can also be connected to numerous goods and added from the back end. They will get visibility and coverage because they will appear each time a product is searched for.
Avoid Including out-of-stock merchandise in Recommended Products
If you show a product that is "out of stock," your potential customer will be turned off. To avoid this problem, you may now hide out-of-stock items from the connected product list. Your primary objective should be to satisfy your customers.
Advance Cross-Selling by Posting Comparative Merchandise
This similar product plugin displays comparable products on the homepage, product pages, category pages, cart pages, and manufacturer websites. Also, displaying a phone cover increases a customer's likelihood of purchasing while they are looking to acquire a new mobile phone. This is the cross-selling procedure.
Testing for Mobile Response and Compatibility
All devices, including desktop PCs, tablets, and mobile phones, use this module. The browser of every user automatically presents pertinent products.
The Prestashop Related products module and all other themes for PrestaShop function nicely together. Multistore compatibility, multilingual compatibility, and SSL compatibility are a few advantages.

Conclusion
The game can be completely changed by using it as a cross-selling tool, and it is easy to install. It highlights the visual design of the product page and other web pages. The Prestashop similar products addon minimizes bounce rates and improves client engagement. Additionally accessible for Opencart and Magento 2
If you are unsure of how to display related items on the product page, shopping cart, or various website pages, we suggest that you include the Prestashop Related Products plugin in your storefront. Contact us at support@knowband.com if you run into any problems configuring the module.