Gift cards are a lovely gift for any occasion, not just the holidays. Gift cards are popular and well-liked by people of all ages, from millennials to adults.
The appropriate gifts for family and friends might be difficult to choose from the customer's perspective, especially with the wide range of possibilities accessible nowadays. The best option for a last-minute gift appears to be a gift card.
Gift cards offer small businesses and entrepreneurs a plethora of chances to increase revenue and broaden their brand recognition among potential clients. But are they similarly successful for online stores? Let's investigate this by asking several questions!
Are Gift Cards still in Demand Today?
Gift Vouchers, like everything else, have benefits and drawbacks, making them the ideal gift for certain people but not for others.
Let's first look at the advantages of gift cards from a business standpoint before delving any deeper into these in-depth analyses.
Gift cards undoubtedly have the ability to significantly boost business growth, boost consumer loyalty, and raise brand exposure. Nearly 3 in 5 shoppers intend to spend more than the amount on their gift cards.
Gift Cards Have Benefits For E-Commerce Businesses
The Prestashop gift card manager extension continues to be popular and influential among users in many facets. Due to this gifting trend, eCommerce businesses frequently experience modifications. A likely gift card marketing plan enables businesses to: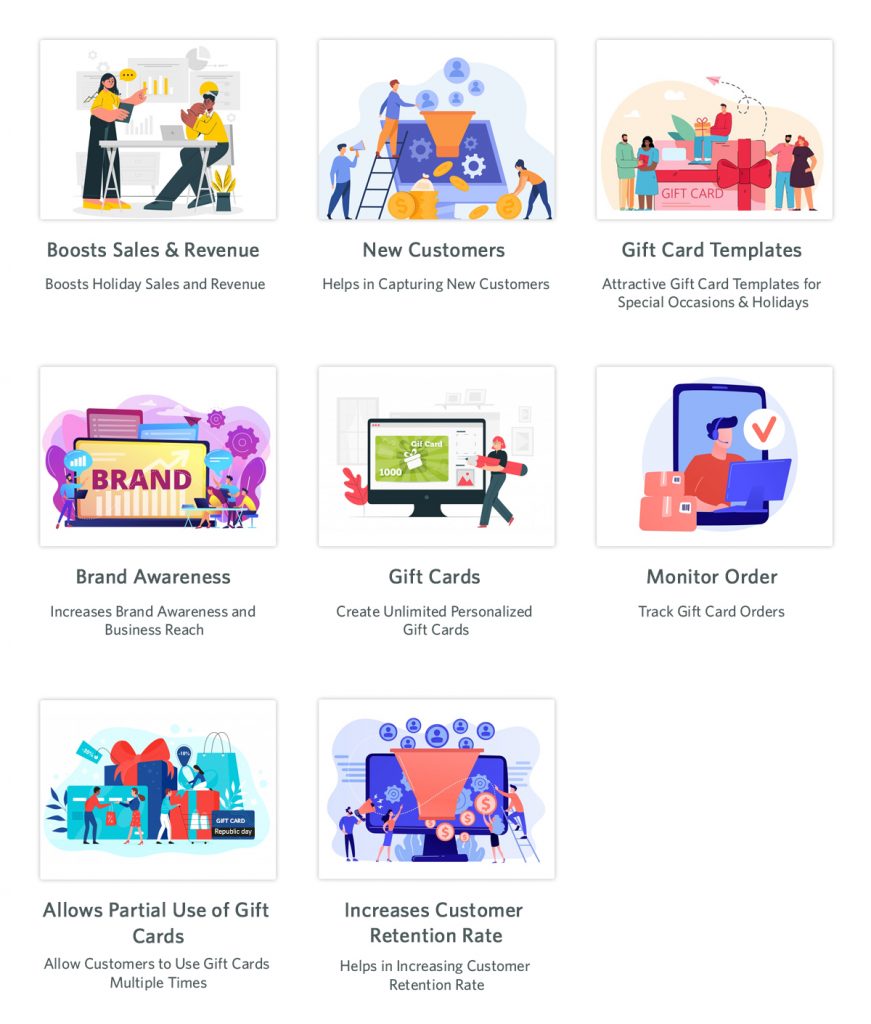 Boost Sales
Gift cards, as opposed to discounts or coupons, keep customers coming back to redeem the full value of the card without lowering the retail price of the brand's goods. There is an opportunity for online shops to upsell more items since most gift cards are utilized over numerous purchases.
Increase Christmas Season Sales
By providing gorgeous gift cards to clients looking for the ideal last-minute gift, you can increase your company's income.
Raising Brand Awareness
Gift cards are widely available and can be bought and used anywhere, both online and in physical stores. Every time the card is used, a tangible Voucher with an etched company emblem provides free marketing exposure.
Encourage Customer Loyalty
To encourage customers to make repeated purchases and participate in the brand's loyalty program, gift cards can be used.
Why Do Today's Consumers Use Gift Cards?

Card recipients are free to select the gifts they want to receive. The main factor that makes gift cards so popular is their adaptability. In other words, those who receive gift cards can freely choose whatever they want to buy from their preferred brands.
You don't have to worry about buying the perfect present for your family and friends if you buy cards, especially if you don't know what they'll like.
Whether it's your best friend or a coworker, you can use gift cards to express your gratitude or love for the recipient.
Summary
Gift cards generally make people happy because
It gives them the option to buy their preferred gift for little to no extra expense.
Customers who purchase gift cards don't have to worry about gifting something the recipients already have.
The gift cards can be used whenever the recipient wants. Gift cards can be used to shop in person or online.
When using gift cards during sales, the recipient might buy more products or more expensive items.
When you're out of gift ideas, a last-minute gift
Have you ever been in a scenario where you lacked the time to choose and prepare a thoughtful gift for someone special? A gift card could save your life in these situations.
The availability of gift cards from well-known retailers online is the most important feature.

Gift Card for Halloween
Giving a gift card as a last-minute present has the following advantages:
Online gift card purchases are available from many retailers.
You can add a picture and a message to the offered card as a card buyer.
Customers can ask the shop to email or SMS gift cards to the recipient. But they must first check with the shop to make sure.
Get online to get a gift card if you want to shop at the last minute. A digital gift card can be purchased and sent at any time, including during the holiday season when most stores are closed.
Very Time-Saving And Convenient
Imagine that you need to buy gifts for a large number of people that you may not be particularly close to. Gift cards are therefore considerably more convenient to give as presents. Why?
It avoids pointless debates over the types of presents that different people might want and whether they already possess them or not.
Gift cards can be purchased and sent by customers to their recipients' homes before or during the holidays.
Gift card recipients can either visit a nearby store or an online retailer to buy their preferred item.
It's unavoidable to buy gifts for loved ones and friends on special occasions like Christmas. In light of the recipient's interests, it is therefore best to buy a gift card from a store with a well-known brand. Budgeting a specific amount for each gift card won't take much time or effort, and you can decide the value of your present.
Why may Customers not give Gift Cards?

Lack of the Genuine Spirit of True Gifts
Gift cards are incredibly convenient to give as presents. Gift cards, however, cannot convey the same sentiment and spirit as conventional gifts. Gift cards appear less thoughtful in comparison to pretty boxes with shiny paper bows, especially to people who like the anticipation of receiving a surprise gift. A shopping card seems more like a careless choice.
To be sure, gift cards take the guesswork out of giving a gift, but they can also be a sign that the giver is not at all enthusiastic.
Gift Cards Bind the Recipients to One Store or Brand
To avoid any issues or misunderstandings in the future, you should define the types of cards supplied by the gift card providers before purchasing one.
Users frequently overlook using their gift cards
People are more likely to overlook gift cards taking up space in their wallets than actual gifts, which causes them to overlook their true value.
The appearance of unused gift cards can occur for a variety of reasons. Some are lost, and some are allowed to perish in the dark.
Unused Gift cards have benefits and drawbacks for eCommerce firms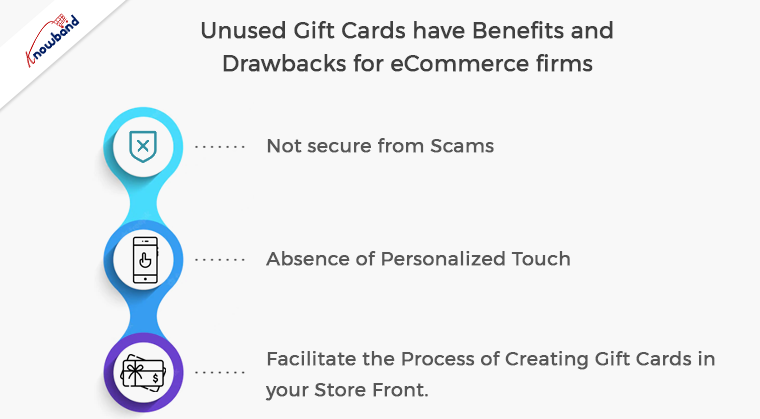 A redeemed gift card represents pure profit for the business since no goods were purchased.
On the other hand, brands miss an opportunity to upsell to potential customers who own gift cards and increase their profits.
Not secure from scams
Scammers prey on customers who buy gift cards. They utilize bots to search through the retailer's online system for any cards with dynamic balances.
And after they have successfully obtained the information from your gift cards, they will resell them online for much less money. In other words, you could accidentally lose the entire value of your gift cards.
Absence of Personalized Touch
Despite being a very practical gift for recipients, a gift card shows a real lack of effort, especially when the giver doesn't even adhere to the most fundamental gift customs. The recipient will not appreciate the gift as much because it will appear to be less meaningful than real gifts.
Gift cards are a popular gift, but some people think they're careless presents. They might believe you don't even want to spend time choosing a real gift.
Suggestions For Making Gift Cards "A Powerful Growth Engine"
These suggestions will help you as an online retailer turn cheap gift cards into money:
Give customers as much freedom as possible to alter the look of their gift cards. For instance, allow them to alter the background color or image of the card or the gift certificates' personal message, etc.
Remind cardholders that their gift card is still valid so that they will use it before the expiration date
Facilitate the process of creating gift cards in your storefront.
Describe the different ways that gift cards, including those that are paper, digital, and plastic, can be used in your store.
As a reward for workers and clients, think about using gift cards. Utilizing gift cards as a component of your loyalty program will help you get the most out of them.
Gift cards don't sell themselves, so you need to use possible sales tactics to boost gift card sales.
Extending a Gift card
The first step you need to take is to choose a likely gift card system in order to launch a potential and cost-effective program. To carry out various tasks associated with gift cards, consider integrating a gift card extension into your shop. This will be useful:
On your e-commerce website, customers can quickly create and customize gift cards. They may also make purchases from your online store using the gift card.
Through a tracking system, online retailers can manage the details of gift cards purchased by customers (such as expiration dates, activation statuses, transaction histories, etc.)
Launch a gift card program for your eCommerce store right away to make the most of this additional tactic for increasing sales during the holiday season. Just use a gift card system to save yourself the hassle. Your gift card program will run smoothly on the website as a result of it helping you to streamline the management process. To know about the smartest solution to integrate the Prestashop Gift Card module in your online store, feel free to connect with the Knowband team at support@Knowband.com.