The Knowband Product Sticker and Label Module enhance the overall traffic and revenue of the store. Further, one effective way to capture the attention of your potential customers and increase conversions is by using the product badge module. Also, among the numerous PrestaShop addons available, Knowband Prestashop Sticker and label module stand out as a reliable and feature-rich solution.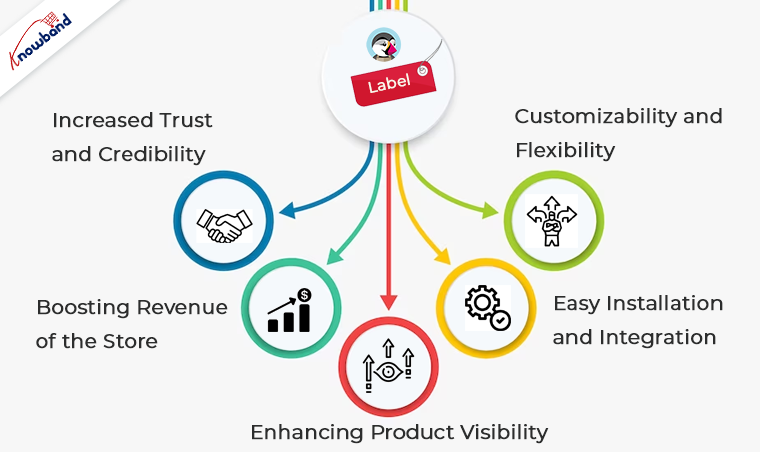 Increased Trust and Credibility
When customers browse through your online store, they often look for trustworthiness and credibility. Further, the Prestashop product labels plugin can play a significant role in building that trust. By using Knowband Product Sticker & Label Addons, you can showcase the products to assure your customers about the authenticity and reliability of your products. Further, these labels act as an approval, instilling confidence in the minds of your customers and encouraging them to make a purchase.
Boosting Revenue of the Store
One of the ultimate goals of any e-commerce store is to generate sales and increase conversions. Also, Knowband Prestashop Product Badge Addon can significantly contribute to achieving this objective. Further, by strategically placing stickers and labels on your products, you can create a sense of exclusivity, thus triggering the fear of missing out in your customers' minds. For example, labels like "Limited Stock," "Best Seller," or "Ending Soon" can create a sense of urgency. Moreover, it will compel your customers to make a quick purchase decision. Also, by leveraging these psychological triggers, you can drive impulse purchases, boost your average order value, and increase your store's conversion.
Enhancing Product Visibility
The primary purpose of using product stickers and labels is to grab the attention of shoppers and make your products stand out. Further, with the Knowband Prestashop sticker and label module, you can easily highlight various aspects of your products such as discounts, new arrivals, best sellers, limited stock, or special offers. Additionally, these eye-catching stickers and labels act as visual cues, guiding the customers toward the products they might be interested in. Further, by using attractive and relevant stickers, you can effectively capture the attention of your visitors.
Easy Installation and Integration

Integrating Knowband Product Sticker Addons into your PrestaShop store is an easy task. Further, the plugin is designed to seamlessly integrate with your existing store infrastructure, ensuring a hassle-free installation process. Further, you can easily set up and configure the addon without any technical expertise. The intuitive interface and user-friendly controls make it easy to manage and update your product stickers and labels whenever needed.
Customizability and Flexibility
Knowband Product Badge Addon offers a wide range of customization options. Further, it allows you to create stickers and labels that align with your products and store increasing your profits. Also, you can choose pre-designed stickers or upload your unique labels in our module. Additionally, you have the flexibility to define specific conditions for displaying stickers on products. Based on these conditions are usable to show stickers depending on price, stock availability, product type, or any other criteria that suit your business needs. Also, this level of customization ensures that your product stickers blend seamlessly with your store's design. Additionally, it can effectively convey the desired messages to your customers.
Conclusion
Knowband Prestashop sticker and label module is a powerful tool for enhancing the visibility, trustworthiness, and sales potential of your PrestaShop store. Further, by effectively utilizing product stickers and labels, you can capture the attention of your customers. It can instill trust and drive conversions. Embrace this addon today and give your e-commerce store the competitive edge it deserves. In case you need assistance with our module then connect with us at support@knwband.com.