In today's digital era, having a mobile app for your online store is crucial for reaching a wider audience and providing a seamless shopping experience. PrestaShop, being a popular e-commerce platform, offers a powerful solution for creating a Progressive Web App (PWA) to enhance the mobile shopping experience. In this blog post, we will explore the process of building a customized PrestaShop PWA app using the App Creator tool provided by KnowBand.
What is a PrestaShop PWA App?
A PrestaShop PWA app combines the best features of a website and a mobile app, providing users with an app-like experience directly from their web browsers. PWAs are known for their responsiveness, offline functionality, and fast loading times, making them an excellent choice for boosting customer engagement and conversions.
Building a Customized PrestaShop PWA App with App Creator: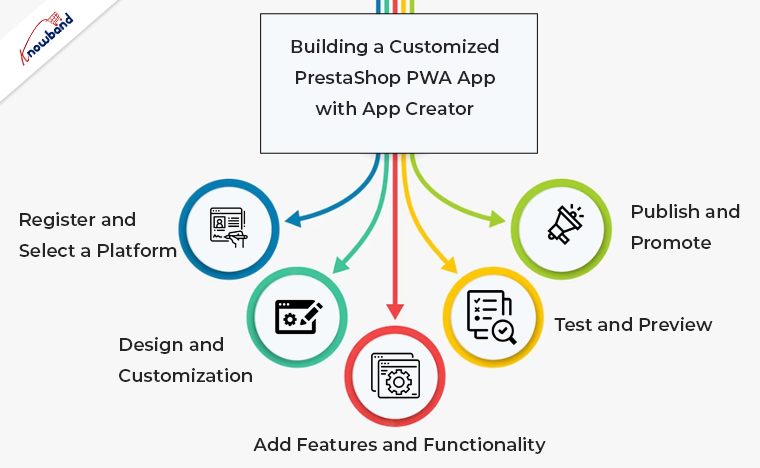 To create a customized PrestaShop PWA app, KnowBand offers an intuitive and user-friendly App Creator tool. Let's delve into the steps involved in building your own PrestaShop PWA Mobile app:
1. Register and Select a Platform:
Visit the KnowBand website and register for an account. Once registered, select the PrestaShop platform as the source and provide the necessary details about your store.
2. Design and Customization:
With App Creator, you can personalize the look and feel of your PWA app to align it with your brand identity. Choose from a wide range of pre-designed templates or customize the app's colors, fonts, icons, and more.
3. Add Features and Functionality:
Enhance the user experience of your PrestaShop PWA app by adding various features and functionalities. This includes support for push notifications, social login, wishlists, real-time synchronization, one-page checkout, and multiple payment gateways, among others.
4. Test and Preview:
Before launching your app, it's important to thoroughly test its performance. App Creator allows you to preview your PrestaShop PWA app on different devices and browsers, ensuring seamless functionality and an optimal user experience.
5. Publish and Promote:

Once you are satisfied with the app's design and functionality, you can publish it on popular app stores like the Google Play Store and the Apple App Store. Promote your app through various marketing channels to maximize its reach and attract more customers.
Conclusion:
Building a customized PrestaShop PWA app Module using KnowBand's App Creator tool opens up new possibilities for your online store. The seamless integration between your PrestaShop website and the PWA app ensures a consistent experience for your customers, no matter which platform they choose.
In case of any doubts or queries during the app creation process, KnowBand provides excellent customer support. Feel free to get in touch with their support team at support@knowband.com, and they will be more than happy to assist you.
So, why wait? Transform your PrestaShop store into a cutting-edge PWA app today and elevate your business to new heights of success.