We all have mobile phones in our pockets now, don't we?
I'm talking about phones and tablets, of course. I've been told that these devices' main purpose, besides making phone calls, is to run a whole bunch of apps that can be used for almost anything you can think of. Businesses from all over the world that sell a crazy variety of goods have started to move from the physical world of handing out flyers, printing ads, and putting up billboards to the mobile world. Also, you should.
I know what you're probably thinking: Our business doesn't need a mobile application to sell things to our loyal customers!
And maybe that has always been the case. But you'll need a mobile app if you want to get ready for the future and start seeing huge benefits right away.
Not so easy to persuade?
4 (And More) Ways That Making a Mobile App for Your Customers Will Be Good for Your Business

1. Provide More Value to Your Customers
In business, it's all about giving and getting. You make a product, and people buy it because they want it, right?
You might have sat down with your employees and tried to figure out the best way to get your customers to open their wallets more often. You want them to interact with your business more so that you can make more sales, but you also want to give them something they can't get anywhere else.
Starbucks uses its mobile application to its advantage by giving rewards only to people who use it. This encourages people to buy coffee and other tasty snacks from Starbucks. Even more ahead of the curve, they let their customers pay right from the app, which speeds up the whole transaction.
If you have something like this already, that's great. You can add it to your mobile app, digitizing the whole process and giving you instant access to information about their purchases. If you don't have one, you should get one quickly.
Customers will be impressed and more likely to follow up on their purchases in the future if they can see their points adding up in real-time instead of having to send them in by mail or wait until they can get to your website to enter them manually.
Knowband lets you make a profitable mobile app in less time and for less money than with traditional tools.
2. Make your Brand Stronger
One of the most important things a mobile app does for customers makes them aware of your brand and let them talk to you about it. And by staying in touch with your target market regularly, you're building trust.
The more your audience trusts you, the more likely they are to listen to your sales pitches and even commit to your brand. By showing, (rather than telling) what your brand stands for, you can show your users why they should trust you.
In the same way that giving away fridge magnets, calendars, and other random items with your company's logo on them was both a form of advertising and a way to help customers in the past, mobile apps do the same thing.
Because of this, so many businesses in all the big industries are making plans for eCommerce mobile apps.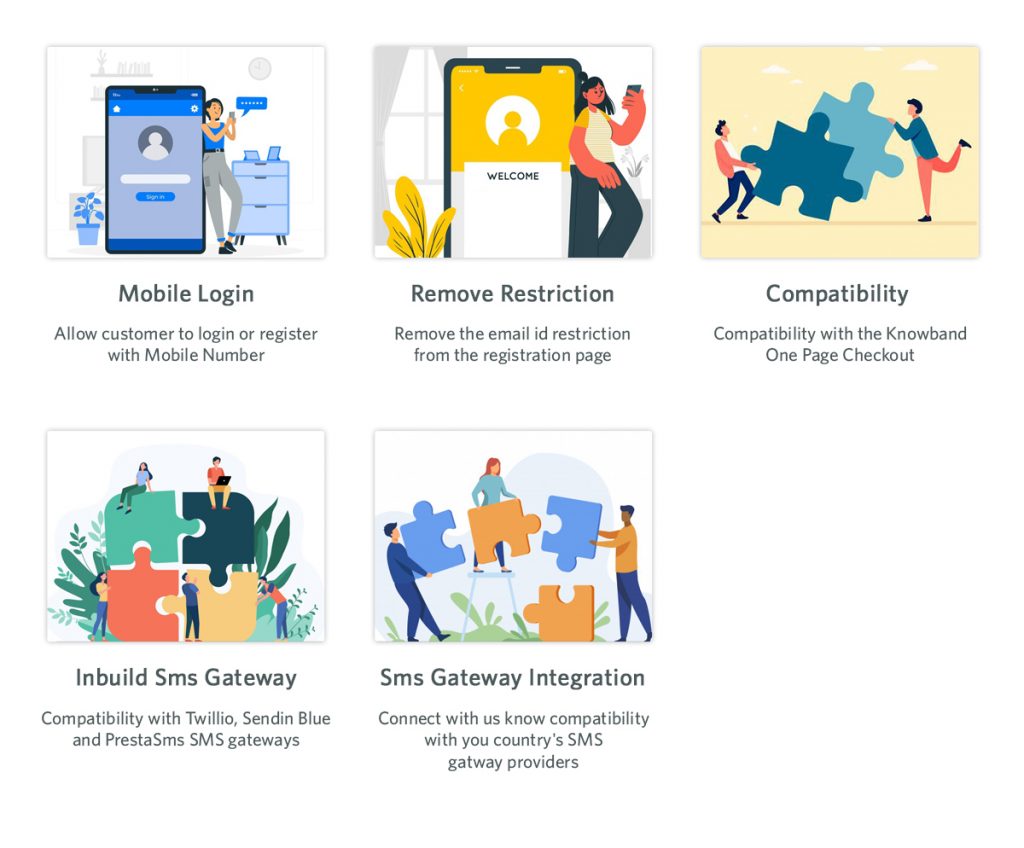 3. Get Closer to your Customers
Why?
Customer service isn't just about smiling salespeople talking to customers face-to-face anymore. Billions of people now always have high-powered phones in their hands, and mobile apps are now the real game-changer in customer service.
And if you have a strong mobile presence, you'll always know you're giving the customer the same face. In fact, most marketers see their apps primarily as a way to improve customer service.
Why a Brand has a Mobile Presence?
Your business is always with your customer without being creepy. (Okay, maybe there's nothing you can do about that.)
But give it some thought. If someone hears about your eCommerce mobile app at 3 a.m. and needs information right away, all they have to do is turn on their device and download it. Later, if they think to themselves that they should buy your product, they won't have to wait until normal business hours when people are awake to do so.
So, if customer service is one of your top priorities (which it should be), mobile apps are the way to make everyone happier.
4. Make More Money
Most of the time, sales go up when customer satisfaction goes up. In fact, SalesForce says that how customers feel they are being treated affects 70% of their buying decisions.
The more people like and are interested in your product and business, the more they will want to buy it. And I can promise you that if you have a product that people can't wait to get their hands on, that demand will bring you some serious profits.
There's no better way to do that than with an eCommerce mobile app. But while you're making it, it's important to keep costs low.
Yes, you should have a website that is well-made and can be used on any of the many mobile devices that are now available. This means you don't have to deal with a frustratingly separate "mobile" site. But if you add a mobile app to your responsive website, sales will go up and the customer experience will get better.
More than 50% of online orders are now made on mobile devices.
Do you notice a pattern? If you're not using a mobile app that makes it easier and more fun for your customers to click "buy," you're missing out on a lot of money from a market that's growing all the time.
KnowBand lets you make a profitable mobile app in less time and for less money than with traditional tools.
Another Good Thing About a Mobile App

If these reasons aren't enough to convince you that you need a mobile app, there are still more reasons to think about using a mobile app strategy to get customers more involved and happy.
Tell people about new products and deals.
Be different from everyone else.
Try to reach out to younger people.
The email and social media accounts of users should be linked.
And if you set it up right, you can find out a lot about how people use your app and how to improve it. These include how long a user spends on your app on average and how much money you make from each purchase.
Mobile App Benefits

Data about where things are is another thing to think about. More than ever, apps now give their creators information about where their users are. If you used this in your business, you could find out when and where people buy your products most often, or which parts of the world are most interested in your business.
When you finally decide to make your app, it might just start out as a way to access the same options you have on your company's website. In the long run, you might even rely on your app to tell you where to take your business in the future so that you can keep going with confidence.
Mobile Maturity
If your business kept going without this feature, you might not know about these numbers while your competitors used them to skyrocket their sales and grow their businesses.
In conclusion
Companies plan to put more money into mobile apps. If you don't, you're likely to fall behind your competitors. And no, a mobile app probably won't save your business, but it will help you stand out in your field. You won't just have a vague idea of a brand that your customers like and think is based in some faraway city. Instead, you'll be right in their pockets. By default, your logo will be on their cell phone screens.
Just make sure to get the word out about your app after it comes out.
Your business will be at the top of its field because of how convenient and cool it is to use new technology that is changing quickly. And, hey, don't you want to pull out your device and play with something you helped make? Get in touch with us at support@Knowband.com to make a profitable mobile app in less time and for less money.
First of all, your app won't just be a person with mood swings and bad performance.