Choosing the right form of Mobile App Builder for an e-commerce website could be difficult if the choice is between OpenCart and PrestaShop Mobile App Builder. Keeping all these points in mind we have drafted a blog for online store merchants so that they can come up with the right conclusion.
PRESTASHOP MOBILE APP BUILDER
The Prestashop Mobile App Builder allows to create smartphone as well as tablet responsive native app with the help of few clicks. This module requires zero coding knowledge. Whether it's PrestaShop Android app builder or PrestaShop iOS app builder , both the mobile operating systems support all types of products, languages, shipping methods, and payment methods. PrestaShop Mobile App Builder allows to customize the Home Screen Layout in PrestaShop Mobile Apps & design the app accordingly. Moreover, it even offers multiple login options such as Google, Facebook, OTP, and Fingerprints. This makes the sign-up/registration seamless for the users.
FEATURES OFFERED BY PRESTASHOP MOBILE APP BUILDER
1. Related Products
The PrestaShop Mobile App Creator is now compatible with the Automatic Related Products module. Furthermore, this feature will enhance cross-selling through your apps. The related products on the website will also be there on the product screen of the mobile app automatically.
2. Provide Extra Customization
Knowband PrestaShop Mobile App Builder is open to all sorts of extra functionalities/modules integration. Moreover, store merchants can add more features to the Android and iOS app. This addon also offer a prominent online shopping medium to customers shopping through mobile phones.
3. Provide Flexible Home Screen
The PrestaShop Mobile App Builder gives a completely customizable home screen in portable applications. For instance, mobile and tablet with the help of multiple attributes. PrestaShop store owners can easily feature their store items on the home screen and grab user attention with different theme-based layouts. Including Christmas, Easter, etc. This can be saved in the back end and used whenever required. The following attributes are:
Top Categories
Banners – Square, Sliding, Grid
Products – Square, Sliding, Grid
Countdown Timer Banner
Recently Viewed Products
Using drag and drop functionality, the positioning of all the attributes can be changed easily.
4. Supports Multi-Lingual And RTL
With RTL writing styles and the RTL compatible languages( like Hebrew, Arabic, etc) the Prestashop Mobile App Maker module supports various languages in mobile. Furthermore, the store admin can display the app in any preferred language and can also reach worldwide online shoppers.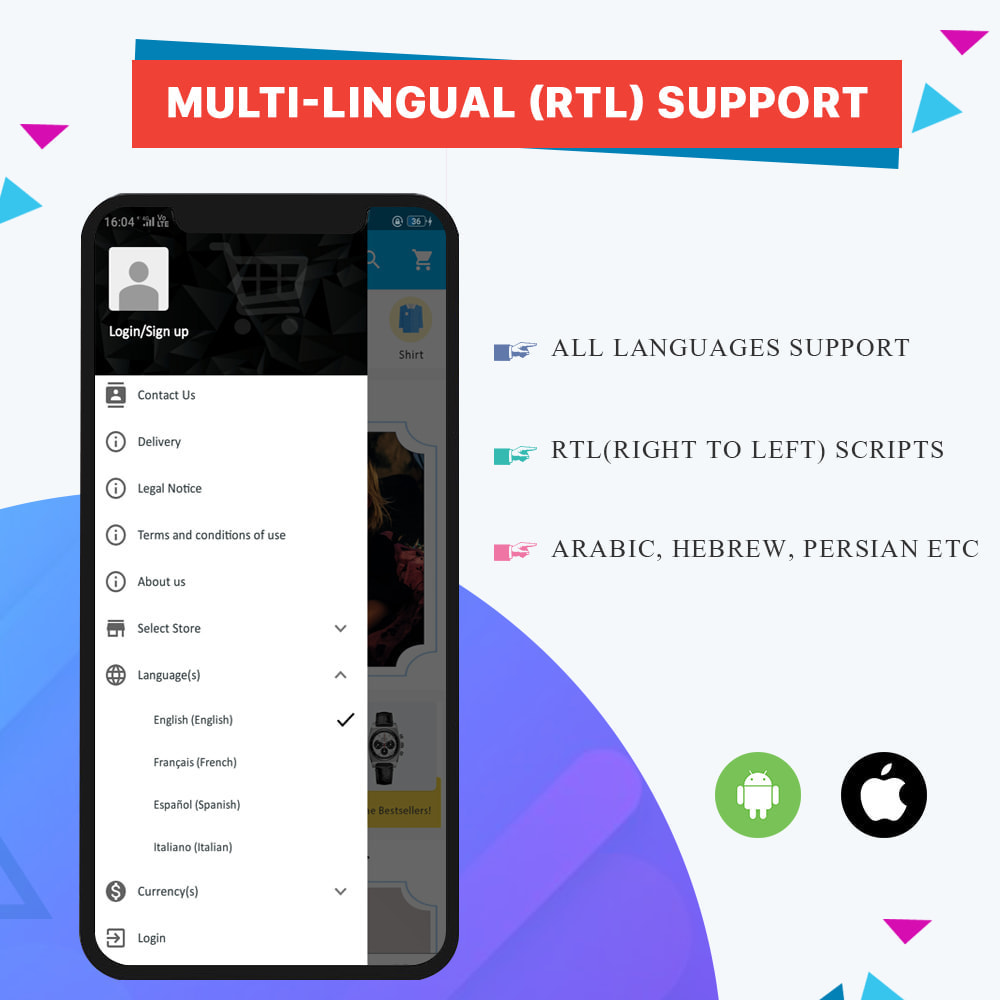 5. Offers Unlimited Push Notifications
Push notifications feature in this module can be the game-changer for business. For easy product marketing and promotion, The PrestaShop Mobile App Maker is the right module because it offers unlimited push notifications.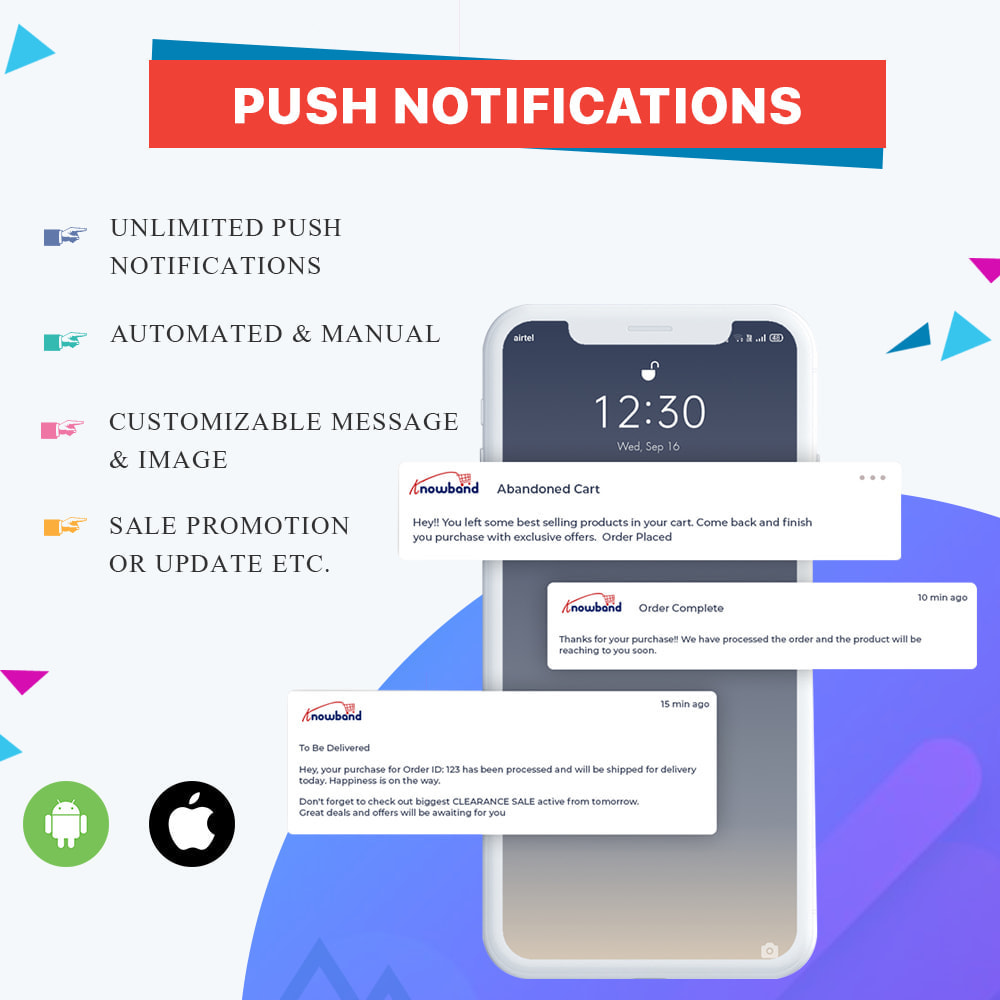 6. Provides Automatic Inventory Management
The store admin can manage the large-sized store inventory simultaneously without any manual efforts with automatic connectivity between the website and the mobile app. All the additional items and categories in the store inventory will be updated on the app as well in real-time.
OPENCART MOBILE APP BUILDER
Portable and tablet responsive applications in only a couple of clicks without requiring any coding information what makes this module worth using. Furthermore, the portable applications with OpenCart Mobile App Maker accompany an adaptable home screen that can be handily modified accordingly. Payment and shipping techniques, multi-lingual, and a wide range of items in OpenCart Mobile App Creator improve the client shopping experience as well.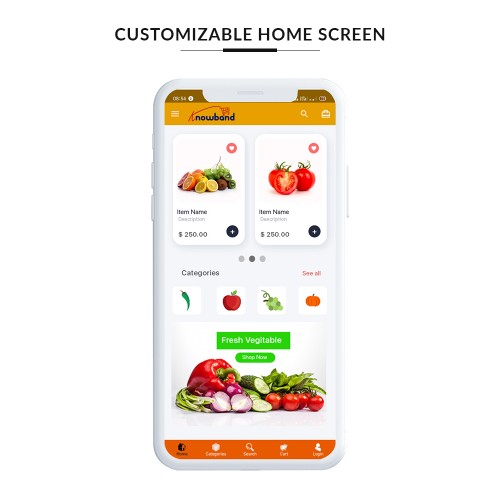 The OpenCart Mobile App Maker gives Zopim and Whatsapp visit admin through which directly connect with your clients and addresses their issues.
FEATURES OF OPENCART MOBILE APP BUILDER
1. OPENCART MOBILE APP BUILDER Works On Offline Mode
The OpenCart Mobile App Maker has now an offline mode feature. In simple words, the pre-stacked screens can be seen even when there connectivity issue. This improves the shopping experience of your application.
2. Brand Recognition
What better spot to feature your brand logo than your application! The module let the store owners add the picture of their logo on the header of the application. Thus, this makes people aware of e-commerce store among customers operating through mobile phones. Hence, this will upgrade the span of your business.
3. Quick Login Options
Simple and quick login options such as Facebook and Google are given in portable (mobile) applications OpenCart Mobile App Creator. This also permit clients to get to the application with their online media accounts. Following web-based media login options are accessible on the mobile application:
Google Login
Facebook Login
4. Multiple Payment Options
This module makes app payment both- reliable as well as secure in your mobile app. A wide range of payment methods is automatically supported on mobile apps. The module as a matter of course accompanies both- PayPal and COD payment methods in the mobile apps.
5. Unlimited Push Notifications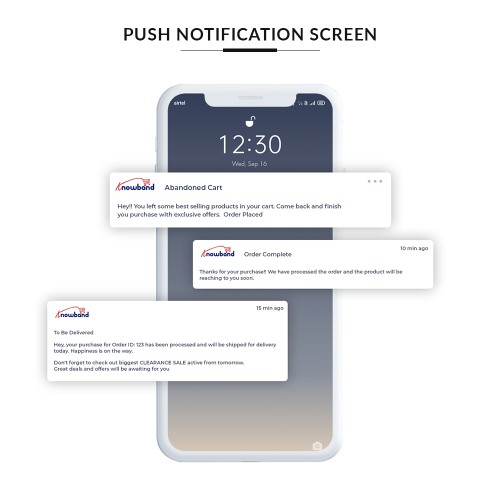 The message pop-ups include the most important feature of OpenCart Mobile App Builder. The store admin can send limitless pop-up messages whenever to the application clients. This even increases sales and discounts. Following kinds of message pop-ups are being offered with this module:
Order Creation Notification
Order Status Update Notification
Abandoned Cart Notification
Conclusion
Thus, both the Mobile App Builder have their own benefits. When it comes to picking one for your e-commerce store we suggest you to pick according to the needs and platform on which your eCommerce is built on.