Selling Gift Cards on an eCommerce store is one of the smartest ways of increasing revenue and sales on your store. Digital gift cards are mostly sold during the Christmas season that lifts your income hence Knowband's PrestaShop Gift Card Addon is highly recommended for eCommerce platforms.
PrestaShop Gift Card Addon
This module leads to more deals as well as helps in gaining new clients for your eCommerce business. Using this module, clients can purchase occasion-themed gift vouchers for their friends and family and can send personalized cards through messages.
Prestashop Gift Card Manager offers a user-friendly interface because of which customers can easily purchase gift cards from an online eCommerce store. From managing gift card templates to orders, with this module admin can perform all the activities without any hassle.
Prestashop Gift Card Addon offers several benefits. Let's discuss more them.
Highlights of the Module:
1. With the Prestashop Gift Card Addon, store admin gets an option to add a gift voucher button on different locations on your eCommerce platform including sections such as header, footer, and at the left side of the website. This option allows the admin to enable or disable any of these buttons from the backend of the module.
2. the store owner can create as many layouts as he needs from the admin interface with the help of Knowband's PrestaShop Gift Card Addon.
3. Orders received through gift cards can be viewed and checked with the help of the PrestaShop Gift Card Addon. These orders can be checked and viewed from the Gift Card Orders tab in the back office.
4. With the help of the extension PrestaShop admin can customize the content of the notification email without any hassle from the back office of the module. This email used for informing both the sender and the recipient regarding the delivery status of their gift vouchers.
5. This module is installed with a single click. Using single-click, Knowband's PrestaShop Gift Card Manager can be enabled or disabled anytime from the backend.
6. Store admin can upload personalized gift card images and can create a large number of new gift card templates with Knowband's PrestaShop Gift Card Module. This extension even allows online customers to create customized gift cards from the website.
7. Compatible with Knowband's PrestaShop GDPR addon.
Key Advantages of the PrestaShop Gift Card Manager :
1. Prestashop Gift Card Manager creates a balance between new and old customers.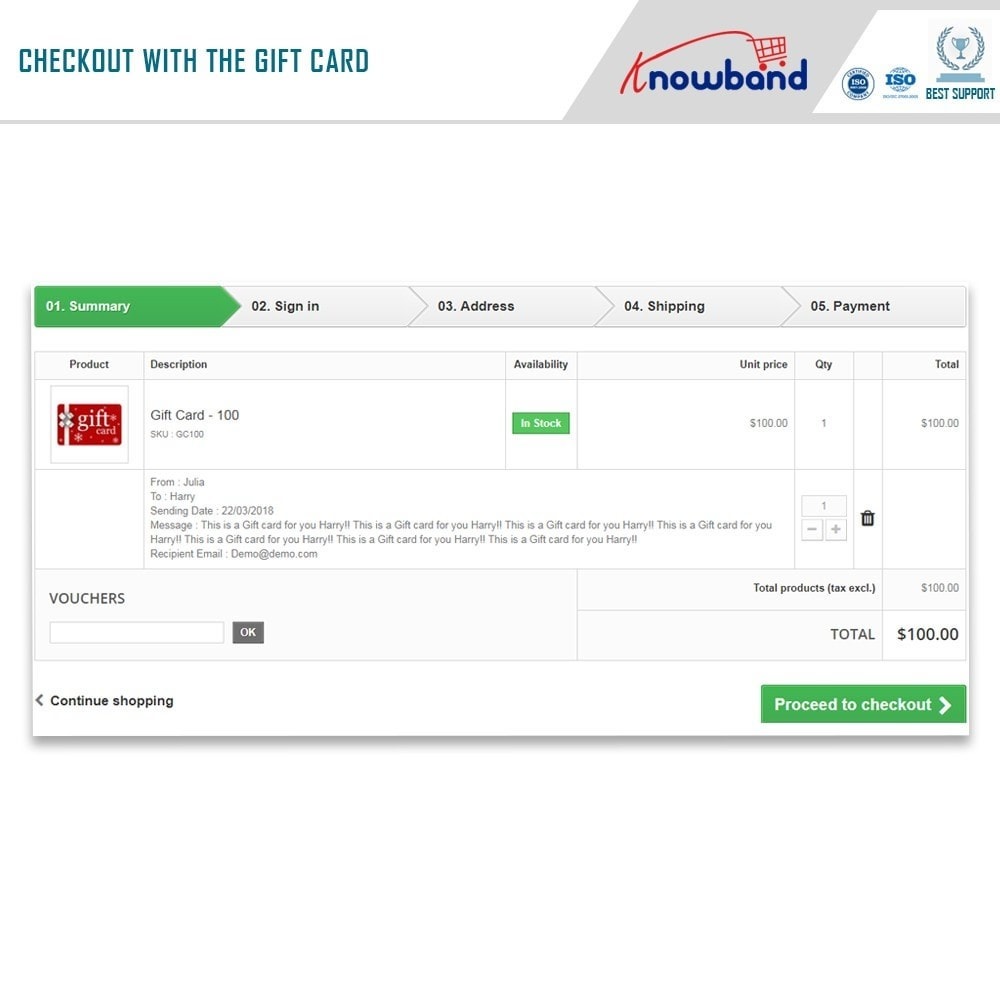 2. The PrestaShop Gift Card Manager is the best extension as it helps in boosting up sales and revenue during the holidays. Store admin can add the gift card section to your eCommerce store. These gift cards can be sell based on holiday themes. PrestaShop Gift Card Manager leads to an increase in sales within no time.
3. Store owners can promote their brand with the help of Knowband's PrestaShop Send Gift Card Module, just by selling gift cards. The biggest advantage of PrestaShop Gift cards is that the admin doesn't have to spend extra on marketing and advertising.
4. Knowband's PrestaShop Gift Module helps in improving the shopping experience of your clients in your store by making the events more unique for their friends and family. It assists with holding the clients and get new clients for your business.
To check out other modules of Prestashop, click on the link below