Where do you wind up shopping when you want to compare a few different options and pricing for the same item? This one is without question. We're all used to looking for things on well-known multi-vendor marketplaces in different places!
Online marketplaces have not only given us an abundance of options, but have also become the first place we look for practically anything we need, including technology, household items, clothing, and almost anything else.
Did You Realize It?
The tried-and-true growth engine for enterprise brands is the multi-vendor marketplace. The multi-seller marketplace is appealing because it is a gold mine for all parties concerned, including sellers, buyers, and business owners.
Although the vast selection that the internet marketplace offers is where shoppers feel most at ease making purchases, merchants see consistent demand for their goods or services. Along with numerous other revenue streams, owners of the multi-vendor brand also benefit from substantial dividends in the form of commissions on each order.
And if you thought the multi-seller model's benefits ended there, you haven't seen how it simply combines with other well-known business models and transforms into a hybrid, cutting-edge, and disruptive business model.
A Few Examples from Actual Life
Multi-seller marketplaces featuring multiple store setups for various locales include Bigbasket, Blinkit, and so on. Niche beauty multi-vendor marketplace Nykaa, Purplle, with a D2C brand website. Food delivery marketplaces Swiggy and Zomato connect with hyperlocal brands as vendors.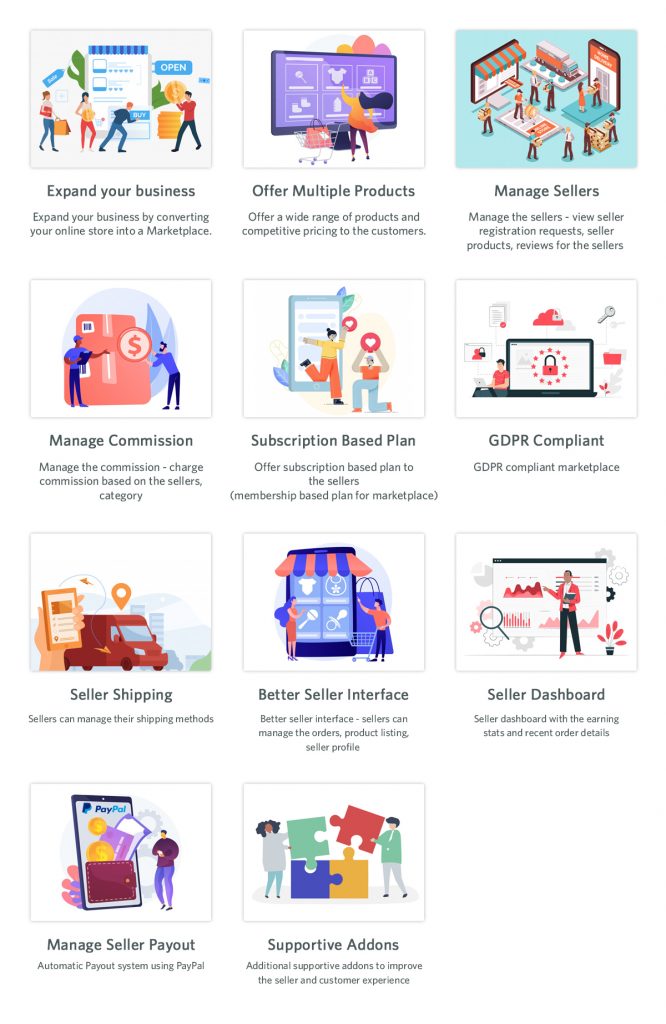 Practo, WebPT- A hyperlocal health tech marketplace with medical professionals, pathology labs, and other diagnostic service providers as suppliers
The list is, of course, inexhaustible. You can create your marketplace brand regardless of the industry sector and alter market dynamics. The marketplace concept is unquestionably a success!
Building the Best Multi-Vendor Marketplace Platform is the First Step
Nothing can stop you from claiming a fair piece of the thriving market economy once you have a business idea and sufficient market research to confirm your idea has a sizable market. To start your journey off right, you must select the best multi-vendor marketplace platform to support your brand. Once you have evaluated and tested a multi-vendor solution on aspects like scalability, flexibility, cutting-edge technology, seamless integrations, security, integrated marketing tools, etc., the biggest starting hurdle has been removed. However, when you begin with your online marketplace, there are a lot of additional things to deal with.
The setup of a multi-vendor marketplace has its own set of difficulties, just like any other fascinating enterprise. To create a successful marketplace, careful strategy, execution, and a lot of alignment are required.
How Can the Major Obstacles to Creating a Successful Multi-Vendor Marketplace Business Be Overcome?

When you develop, introduce, and manage a multi-vendor marketplace, numerous difficulties arise every day. Existential dangers may result from improper administration of goods, software, customers, orders, or even your approach to marketing and sales.
If your marketplace brand is to survive and thrive in the industry, it may need to overcome additional risks and challenges. These problems, if not resolved quickly, could be fatal to your brand.
Fortunately, you can get past these challenges if you have the right eCommerce platform at your disposal. The main challenges in developing a multi-vendor marketplace and solutions are discussed in the following paragraphs.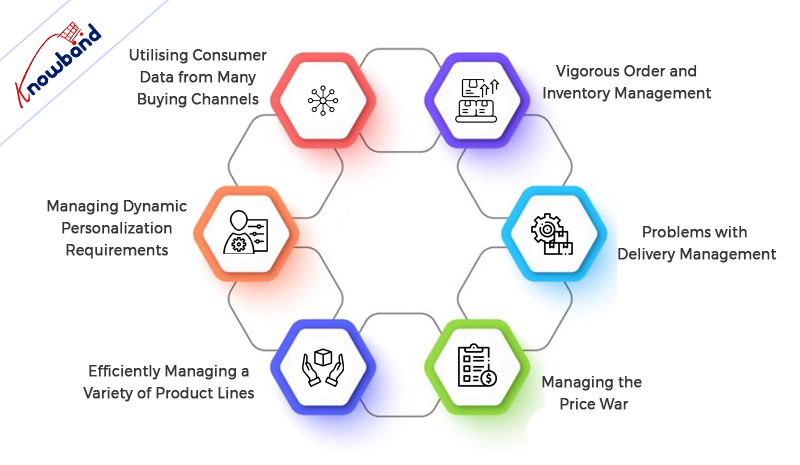 1. Vigorous Order and Inventory Management
You now had customers, vendors, and goods on your online market. Orders started to come in after customers started making purchases. Awesome. Now is the time to organize.
Having sellers and products on your marketplace is just one part of the process. Major business losses may result if your order and inventory management difficulties are not effectively handled. You can effortlessly manage orders and inventory and be incredibly organized with the best multi-vendor marketplace platform, like Knowband. You may monitor each order's status and keep track of pending and finished orders, lying products, vendor sales, and other information using the site.
2. Problems with Delivery Management
While the online marketplace is in charge of managing delivery, the vendors are in charge of preserving the quality of their products. Even if the problem of shipping and delivery is one of the biggest obstacles for a multi-vendor marketplace, it can be solved with a dynamic marketplace platform. To spare the vendors from never-ending shipping headaches, the Knowband Multi-Seller Marketplace module helps manage and automate the logistics system on your marketplace platform.
3. Managing the Price War
Customers find it very convenient to buy everything from one spot when several sellers are registered on a single marketplace. The abundance of alternatives for each commodity also causes a significant price war. Since everyone has signed up to compete for a bigger market share, this price war presents a significant issue for multi-vendor markets. With Knowband, you can use the platform's tools and built-in capabilities to execute creative pricing schemes. It enables you to tailor prices based on consumer demographics, spending patterns, website interactions, and purchasing channels. You can change the product prices using Knowband's built-in dynamic pricing options, which will also assist you in navigating the issues of pricing wars.
4. Efficiently Managing a Variety of Product Lines
Marketplaces typically work with a wide range of products and customers to generate sizable sales. They must effectively handle the various product lines for the same reason. You can easily manage the various product lines using the Knowband platform. The admin and sellers can add, update, and delete products on the multi-vendor marketplace platform. Additionally, they can bulk-add product data like product descriptions and image variations. The more sellers and products there are, the more money the market makes. To make sure that the appropriate products are delivered to the right clients, Knowband also offers simple order management.
5. Managing dynamic personalization requirements
Everywhere customers expect personalization. Payment methods, shipping costs, item costs, store currencies, content translation, and more. Customers require exactly what they are looking for, especially when it comes to the marketplace. However, maintaining dynamic personalization is very difficult. The greatest multi-vendor eCommerce platform, like Knowband, has changed that. The platform enables you to provide customized pricing and coupons depending on customer information. Utilizing the multi-vendor e-commerce platform to automate and customize your marketing operations offers two advantages. By setting up and controlling prices based on the customer's purchase path, it gives customers a tailored shopping experience. With capabilities like multi-currency and multi-lingual support, it also enables you to access the global market.
6. Utilising Consumer Data from Many Buying Channels
Customer insights are a crucial point to pay attention to. It is the responsibility of the online marketplace to examine customer insights such as order volume, purchase history, refunds, preferences, and more. It aids in providing customers with individualized experiences based on their data. However, to gather crucial customer information and support the purchasing process appropriately, you need a multi-vendor marketplace platform like Knowband. The multi-vendor e-commerce platform enables you to provide customized products across all platforms and devices and to better understand the pain points, buying cycle, purchase history, and preferred shopping channels. You can quickly send promotional notifications, emails, and texts based on the customer data gathered.
How Can We Assist You in Managing and Overcoming All the Difficulties Involved in Creating a Multi-Vendor Marketplace?
The multi-vendor marketplace model has several advantages for your company. Additionally, by bringing on many vendors from various places, you have a better possibility of expanding into new markets. You will want to take advantage of this opportunity to grow your online business as much as possible while managing the main difficulties associated with creating the market.
The greatest multi-vendor e-commerce platform, Knowband, can handle all of the aforementioned difficulties in creating and running an online marketplace. The platform offers the ability to set up any unique format of your online marketplace, including horizontal, vertical, service aggregators, and more. The Knowband platform is designed with full mobile compatibility and PWAs in mind, so your website will behave and look much like a native mobile app. This enables you to take full use of mobile commerce's advantages and increase your sales.
Are you prepared to begin your digital adventure with Knowband's multi-vendor marketplace solution? Contact us at support@knowband.com to immediately explore all the fantastic features.