In the eCommerce market, mobile users have been increasing remarkably for the last 5 years. According to research, around 52% of online shopping is done through mobile users. If you own an eCommerce store and your website and checkout process are not mobile-friendly, then you are losing a lot of sales.
Knowband offers PrestaShop One Page Checkout addon which offers an amazing checkout experience to your users whether they use desktop or mobile device to purchase from your store.
With the mobile responsive One Page Checkout, your customers can easily load the checkout page, fill in all the necessary details comfortably and place their order in no time.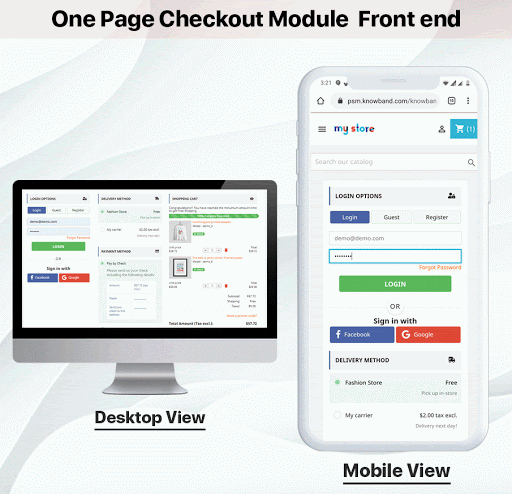 The addon offers a lot of advanced features like social login, guest checkout, auto-detect country, etc that make the checkout process easier and faster for the customers. So, what are you waiting for? Upgrade your checkout system and get a quick, easy-to-use, and responsive One Page Checkout that improves the conversion rate of your online store.
One Page Checkout addon is available for the following platforms:
PrestaShop One Page Checkout addon
OpenCart One Page Checkout Pro extension
Magento One Page Checkout extension
Salient Features of the PrestaShop One Page Supercheckout:
1. Social Login:
Social login has become one of the most popular and useful login methods in the eCommerce industry. With the Prestashop Fast Checkout addon, your customers can easily login with their Facebook, Google, or Paypal accounts within a few clicks without creating a new account on the online store.
It not only eases the login process but also reduces the chances of failed login on your website.
2. Compatible with Payment and Shipping Services:
If you don't want to make your customer leave during checkout then you must provide him multiple shipping and payment methods. Knowband's PrestaShop Quick Checkout addon is compatible with nearly all the shipping and payment methods.
The store owner can offer a variety of options to the customers to increase their confidence and trust.
3. Guest Checkout Feature:
Not everyone feels good creating a new account on an eCommerce website. Most of the customers leave the cart abandoned because they don't want to share their details with an unknown eCommerce website.
The PrestaShop Simplified Checkout addon offers Guest checkout functionality which will let your customers checkout and place their orders without creating a new account on your website. They can simply log in and place their orders as guest customers.
4. Easy Customizations of Checkout Fields:
Knowband's Prestashop One Page Checkout addon offers easy customizations of the checkout page and the checkout fields. The fields or steps can be hidden or visible from the back office of the module. The store admin can also make the fields mandatory or optional for the customers.
5. Custom CSS and JS:
If the e-merchant wants to customize the checkout page on an advanced level, then he can do it through Custom CSS and JS. The customizations can be done from the back office of the Knowband's PrestaShop One Step Checkout Addon itself without modifying the core files of the website.
6. Free Shipping Bar:
The Prestashop One Page Checkout addon offers a Free Shipping Progress Bar by which you can encourage your customers to buy more from you in order to get free shipping for their order. You can specify the minimum amount limit for the customer to be eligible for free shipping.
You can also check the User Manual of the addon.
For any queries or suggestions, feel free to contact us at support@knowband.com.