The PrestaShop Checkout addon, also known as PrestaShop One Page Checkout, is a PrestaShop extension that introduces a one-page checkout process in place of the typical multi-page checkout process on your Prestashop store.
PrestaShop One Page Checkouts are advantageous for your PrestaShop store because they increase conversion rates by optimizing the checkout page and streamlining the checkout procedure.
Why Prestashop One Page Checkout by KnowBand?
When online shoppers are on the checkout page, they must complete a number of steps. They also encounter a registration form in between, which breaks up their flow. To be completely honest, most customers dislike filling out protracted registration forms or creating accounts during the checkout process, but many e-commerce stores have made it a requirement on their website.
As a result, some customers decide to remove items from their carts and look at other retailers who offer an easier and better checkout process. PrestaShop One page checkout addon deals with these situations and aims to give your store visitors a better checkout experience.
Prestashop One Page Checkout employs a number of strategies to close various gaps in the checkout process that might be destroying your conversion rates and driving up cart abandonment. Let's examine how Prestashop One Page Checkout contributes to a better checkout experience.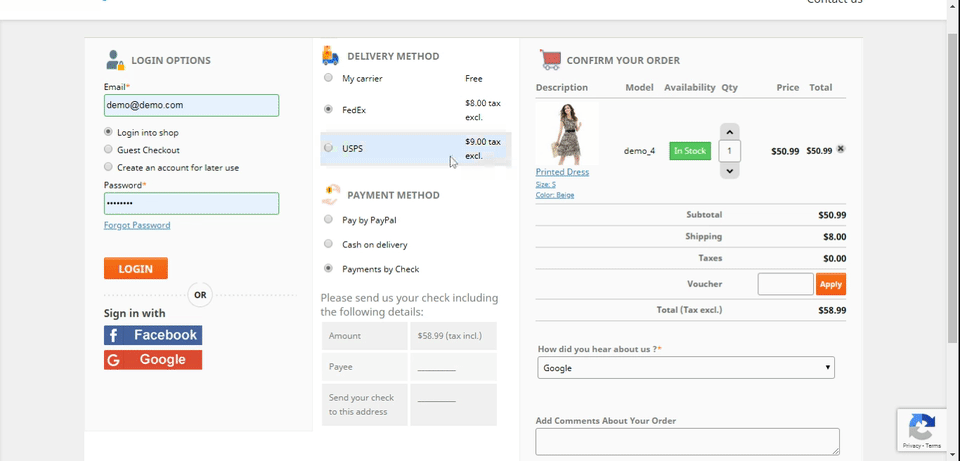 1. It Has Guest Checkout
You can offer the Guest checkout option to customers who are hesitant to register for an account on your store or dislike getting registered and entice them to make a speedy purchase.
2. Quick signup thanks to social login
Customers can sign up on your website using their Facebook, Google, or PayPal accounts. It spares customers' time from tedious form filling and facilitates their journey to register.
3. On the checkout page, customers can easily update their cart quantities.
There is no need to return to the product page if a user wants to adjust the quantity of a product. From the checkout page, he or she can update it.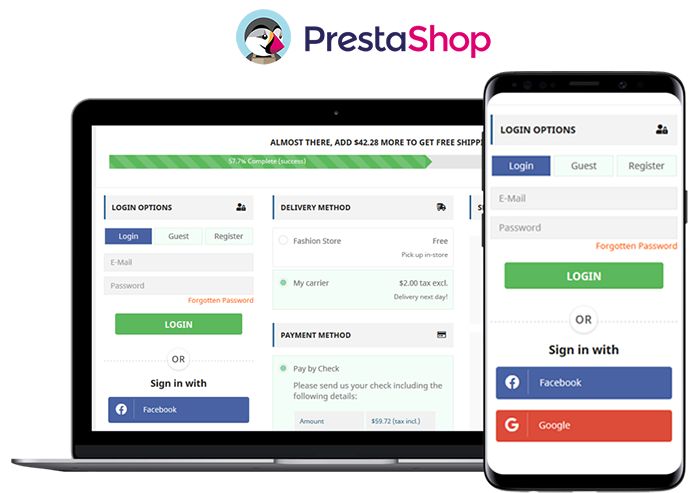 4. Google Auto-address fill minimizes additional work
The address fields on the checkout page are automatically filled when this feature is enabled.
5. Support for multiple payment options and shipping services
The One Page Checkout addon offers support for almost all of the popular shipping and payment methods.
6. A variety of layouts to create an eye-catching appearance
Three different layout designs are offered by the PrestaShop Quick Checkout extension: a 1-column layout, a 2-column layout, and a 3-column layout.
7. Support for MailChimp, SendinBlue, and Klaviyo email integration
When an email address is entered, it will automatically be synced to your MailChimp, Klaviyo, or SendinBlue account if the appropriate platforms' back ends have been configured with the appropriate API keys.
8. With the free shipping tab, the average cart value will rise.
You can specify a minimum purchase amount for the one-page checkout module's free shipping option. If a customer spends the specified amount or more, he will see a banner indicating how much more they must purchase to qualify for free shipping.
9. Invoice custom fields
Thanks to a recent update to Knowband's One Page Checkout addon, the store owner can now enable the option to display the newly added custom field in the invoice of the placed order.
PrestaShop's One Page Checkout works well with:
It works with virtual/digital products (No shipping method will be displayed)
Compatible with customizable products, and shows complete information, including all customised details, on the shopping cart
Responsive across all platforms, including mobile, tablet, and desktop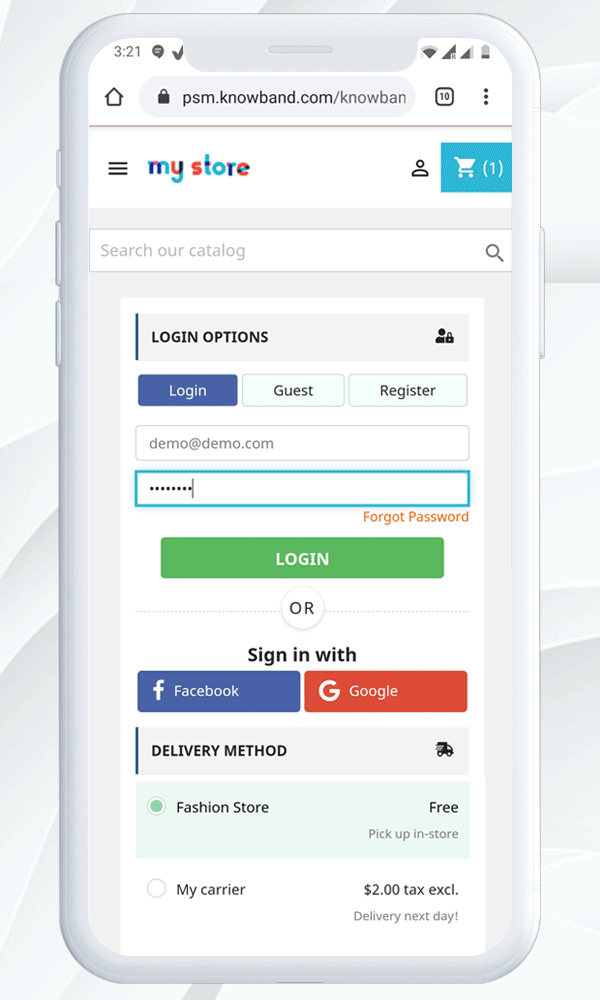 Additional options to further personalize your PrestaShop checkout page
Options like Inline validations, Auto-detect country, and Auto address fill are available under the Addresses tab. You can select which fields you want to make required for visitors and which you want to make optional.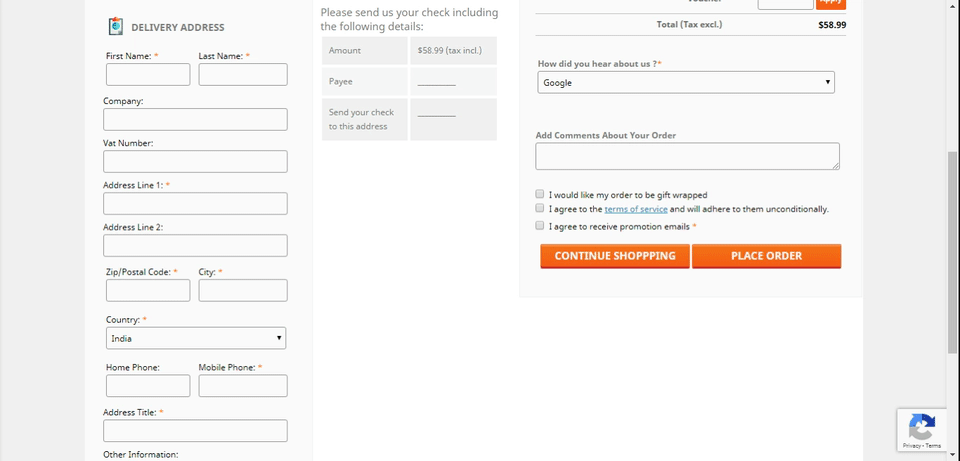 You can choose the payment methods you want to offer to customers on the payment method tab.
Similar to that, you can select the shipping services that you want your users to use on the Delivery method tab.
With the help of Ship2Pay, you can select the payment methods you want to accept for a specific shipping service.
You can specify the cart information that will appear on the checkout page under the Cart tab.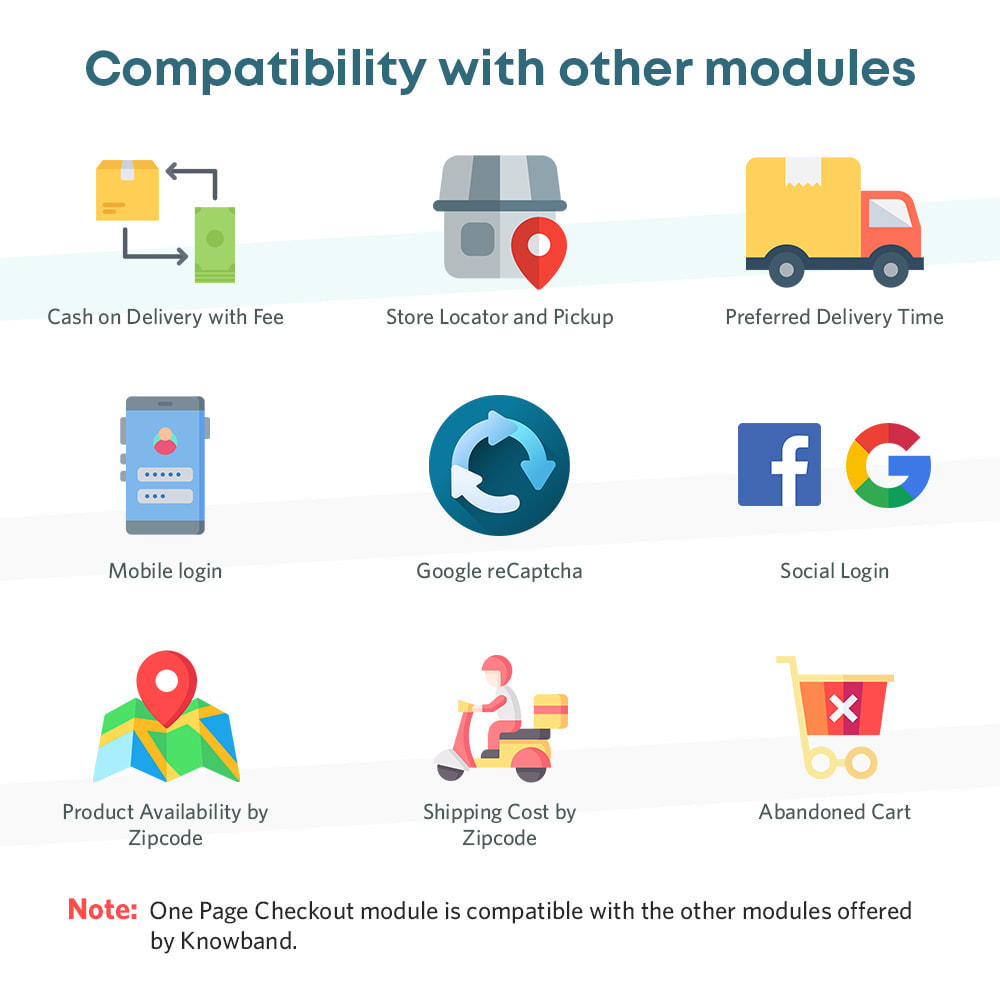 Please refer to the PrestaShop One Page Checkout User Manual for comprehensive, in-depth information regarding the PrestaShop one-page checkout addon. Know more: