The current business industry trend is the conversion of offline businesses to internet operations. Selling online has several advantages, but it also broadens brand awareness. Despite the increase, a number of merchants have reservations about whether coding and technology are necessary to create an eCommerce website. The fact is that not much code is actually required to create an internet business website. PrestaShop is one of many cutting-edge online systems that make it possible to build an eCommerce website without writing a single line of code.
You can choose from a variety of website configuration options with PrestaShop, but all websites can be managed by non-technical users as well.
The simplest platform for creating and customizing the web front end, according to online retailers, is PrestaShop. Furthermore, PrestaShop gives retailers a huge selection of pre-built themes and layouts to choose from for their online store.
With Prestashop's Assistance, Create your own online store

Hosting Provider:
The first step before beginning PrestaShop no code website construction is to select a domain name and hosting company. In addition, there are a few factors to think about while selecting Presta Web hosting. For instance, you shouldn't always select the cheapest hosting options. As an alternative, you may put speed and storage capacity near the top of your list.
Nowadays, there are numerous hosting providers that offer practical hosting packages. For your online store, choosing the correct hosting company will be crucial, but so will choosing a catchy domain name that draws visitors.
Therefore, picking the ideal domain name for your company is always a good idea.
PrestaShop Installation:
The next and most crucial step is PrestaShop installation, which comes after picking a good hosting plan. In order to install PrestaShop on your hosting server, you may also go to the official PrestaShop website. There, you can select the PrestaShop version you want for your store.
Additionally, visitors can examine a summary of the features and products available in various PrestaShop versions. The following step is selecting the subscription plan once the Presta online shop version is complete. Choose the subscription package that best suits your needs, and then let's talk about the next move.
Create Your Shop

The PrestaShop staff will provide you with the store admin details by mail as soon as you have successfully completed the aforementioned processes. Additionally, you will have access to a number of customization options for your online business after you log in using the shared data.
Using all the pre-built tools, for instance, you may construct the ideal layout for your online eCommerce website. Additionally, the stages to creating a perfect Presta Online store are listed below.
Select the Ideal Look:
Online retailers have countless possibilities for designing their websites whichever they want. They will also need banners, logos, and brand pictures to tailor their online store. In addition to using PrestaShop's pre-built choices to customize the look and feel of their online store, users can also change the layout at any moment.
When creating product page designs, you should take great care when entering information. Additionally, you should include clear and accurate product photos as well as concise and informative statistics. Additionally, when shoppers find pertinent and concise information on the product page of the item they want to purchase, their chances of making a decision are increased.
Product Customizer: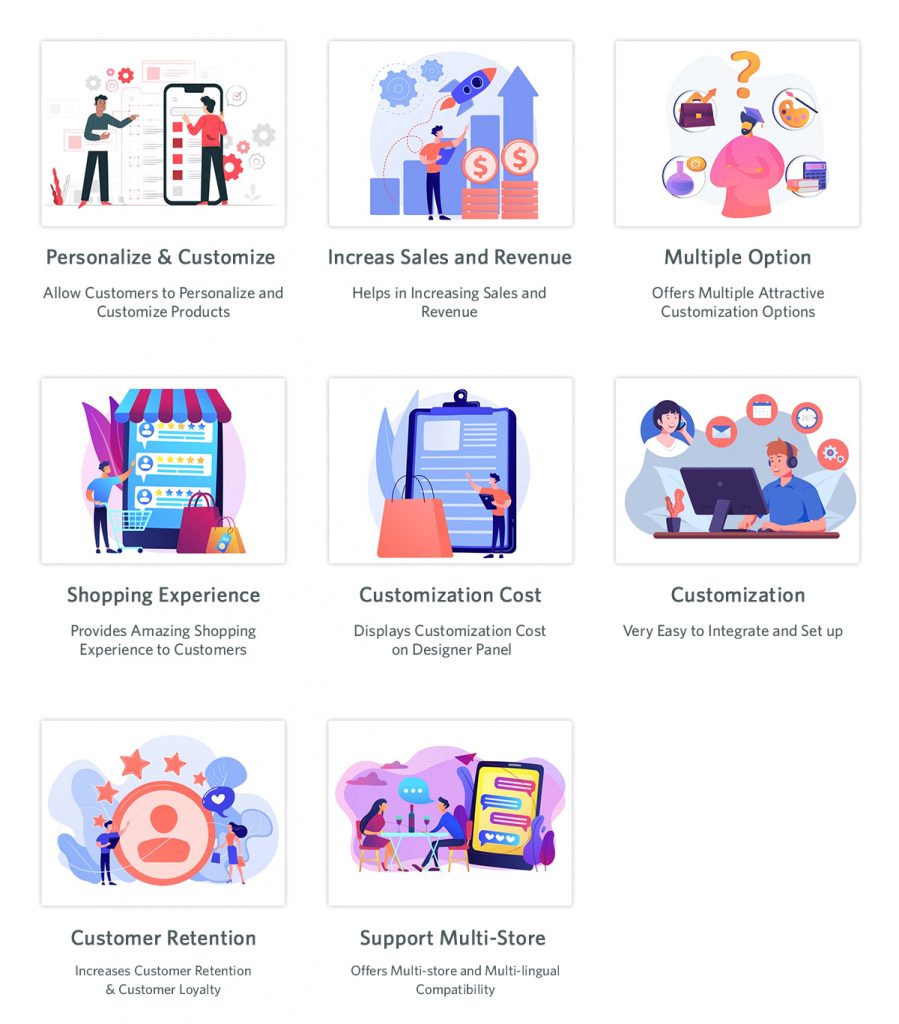 Additionally, sellers who want to set up a PrestaShop online store must keep the product page appealing to visitors. You can create profitable and attractive product pages using PrestaShop's basic tools. On the other hand, if you want to add further alterations to your PrestaShop product pages. Two of the most helpful add-ons are the Knowband PrestaShop Product Customizer and website decoration effect.
Feedback Website Decoration Effect
Following the success of developing the product and home pages, the following step is to specify the shipping and payment choices. You can add payment choices in this step based on your preferences. PayPal, Cash on Delivery, Credit Cards, Google Pay, and many other options are the most popular payment methods on PrestaShop. You can customize the delivery ways in addition to the payment methods by putting different conditions into the PrestaShop backend.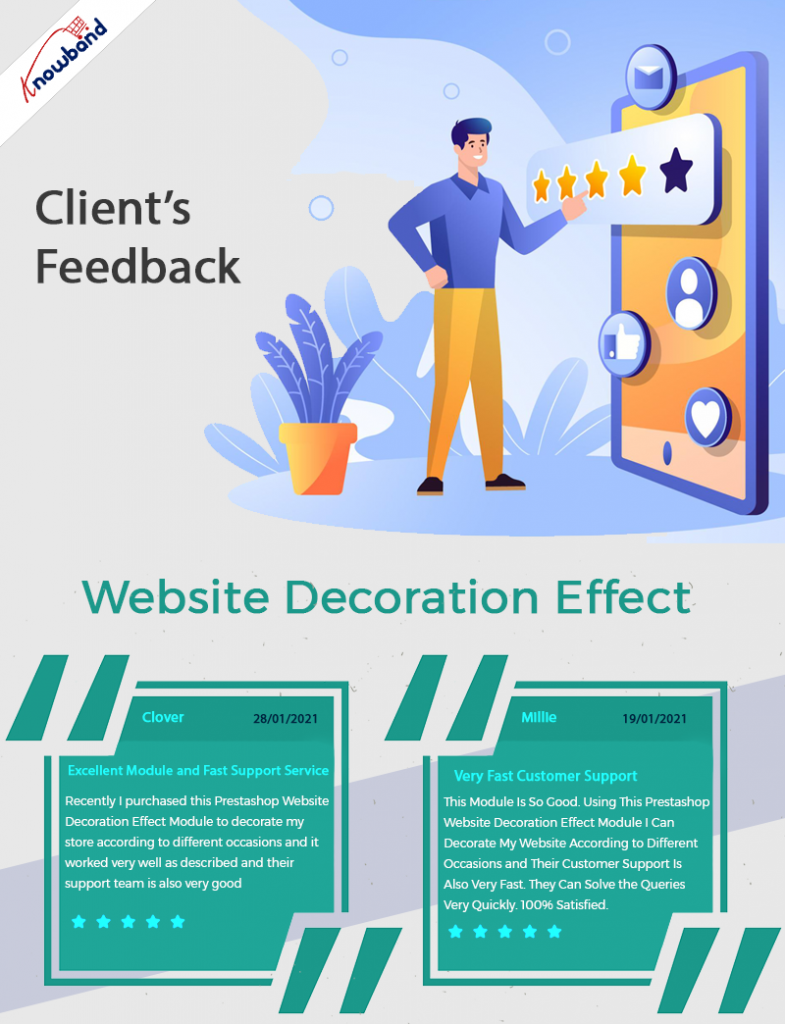 In order to boost customer engagement and lower the rate of cart abandonment, it is essential to keep the checkout process straightforward. For keeping the checkout process straightforward for your clients, you can use Knowband's One Page Super checkout.
Advantages of the PrestaShop eCommerce Website:

Platform with lots of customization options: PrestaShop is renowned for its customizable features. Not only does PrestaShop give online merchants a choice of more than 2000 shop designs, but also of pre-existing themes or, if necessary, custom themes. PrestaShop is also a PHP-based platform. Presta can be modified at your convenience if you are familiar with basic PHP code.
You can utilize Knowband's best PrestaShop addons for your store if you don't know how to code and want to modify it. You may enjoy more features in your PrestaShop business with the modules, and managing them doesn't require any PHP expertise.
Advantages of PrestaShop:
Seller Community that is helpful:
PrestaShop is unquestionably one of the best options in terms of customer service. Additionally, if you have any difficulties while setting up your online store. On PrestaShop forums, you may get a lot of free help (made for PrestaShop Support).
Search Engine Optimization (SEO):
Administrators can also use SEO technologies to help increase client traffic by using SEO. Additionally, it is a good idea to always utilize a simple website URL to make a good impression on visitors.
How Does It Work?
PrestaShop is unquestionably the best option if you're searching for a legitimate no-code eCommerce website development solution. The same is true because mastering PrestaShop administration doesn't necessitate having a lot of code or technical knowledge.
For the community of online sellers, Knowband provides eCommerce website-building options. To begin working on your projects and specialized eCommerce platform improvements, employ.
For a brief talk about your needs for web and app development, you can reach us at support@knowband.com as well.