Is selling customized products in your store is enough to improve the client shopping experience? Honestly no. You need to think more than that. Personalized products have small markets limited to specific brands and sellers and their scope is limitless. Therefore, the Product personalization addon is an effective way of enhancing client's loyalty and engagement by offering personalized products as well as services to customers.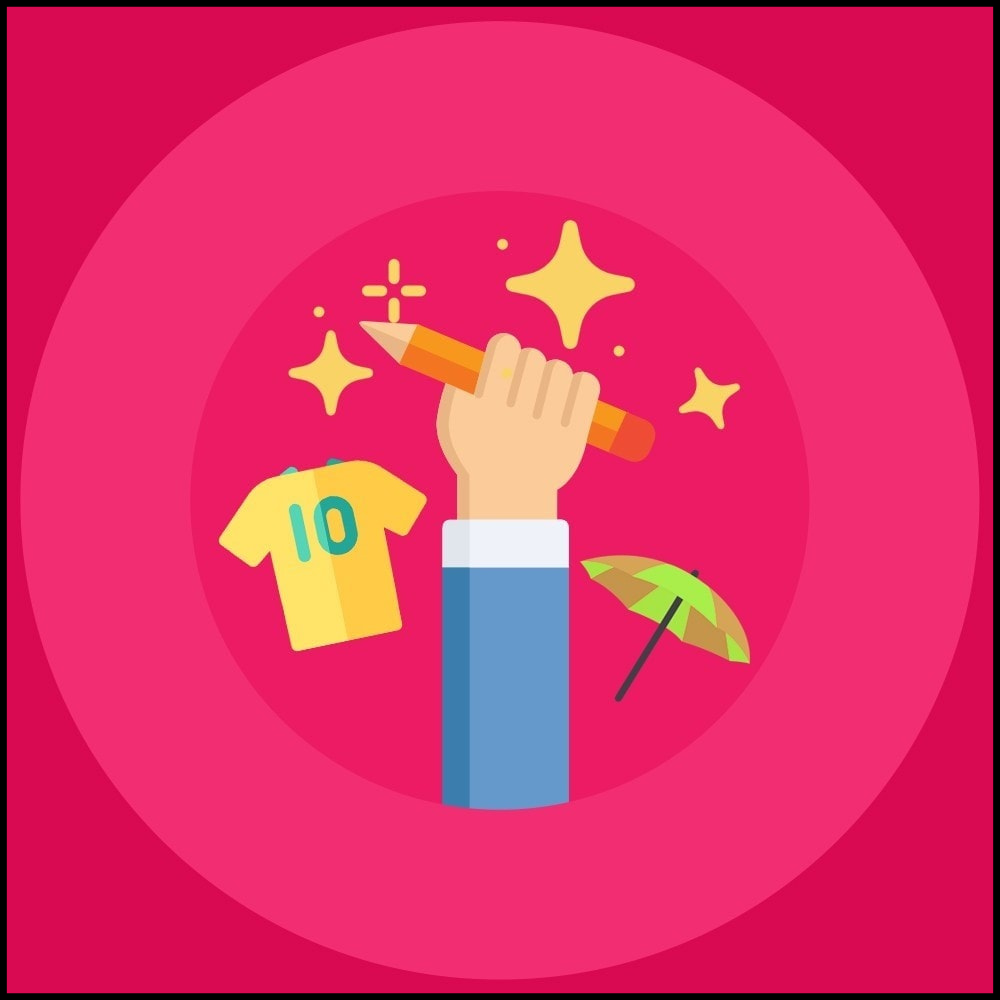 To make your store product unique for online buyers, Product Customizer or Product Configurator is a powerful means. Furthermore, this addon provides a unique and smooth shopping experience. As a result, store merchants can incorporate this simple and convenient addon on their site. Hence, it is an incredible self-service for the shoppers.
Moreover, the Product personalization addon offers unlimited product customization options to the customer including printing an image over the T-shirt using filters. This helps clients to purchase the product according to their requirements and choices.
What are the unique features of the Product personalization addon?
1. Permit e-merchants to add pre-defined design ideas for different products on their online shop. Moreover, with a custom product designer, clients can get multiple customization options with their desired product. For instance, T-shirts, mugs, rings, or any other kind of product. Prestashop custom product designer addon allows personalization according to their needs.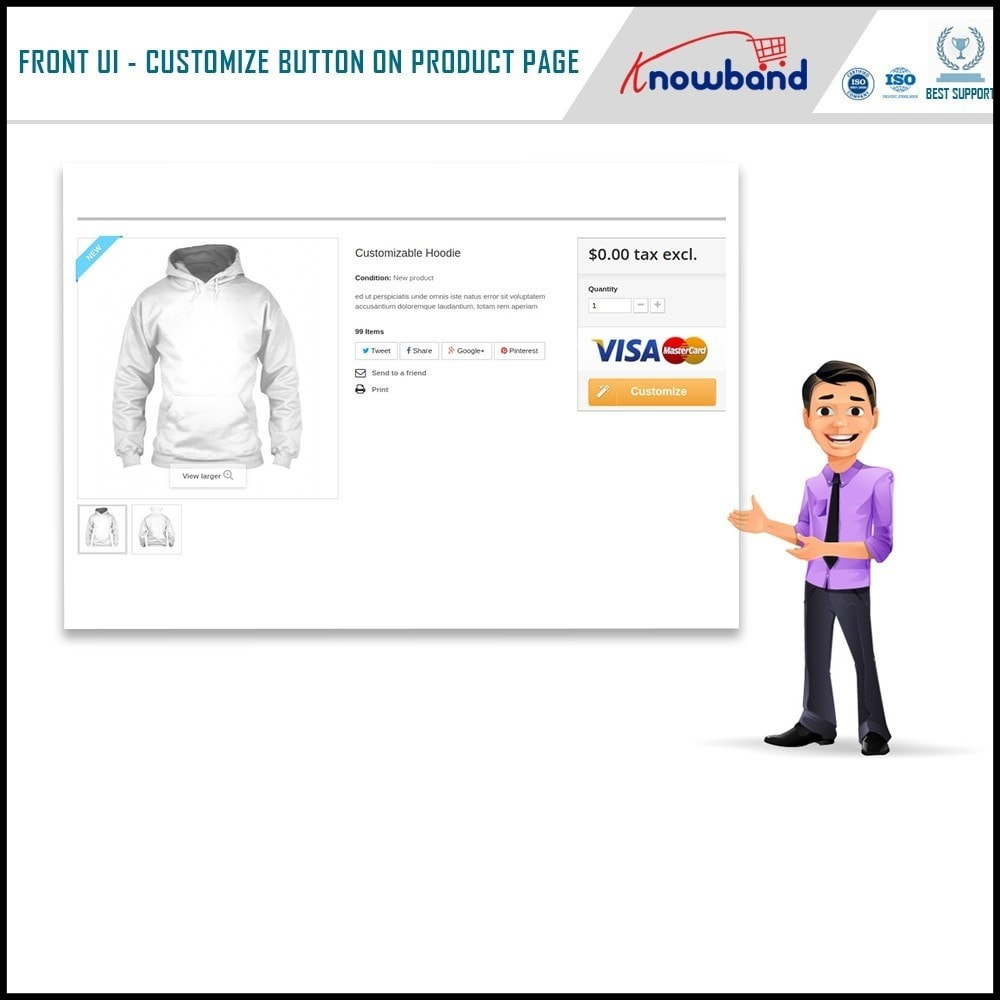 2. This addon displays customize button on the product page to the customers. Moreover, product personalization options are displayed for items that have been configured from the backend.
4. Advanced product customizer module can be enabled as well as disabled. Furthermore, disabling the product customization panel will only display the standard product customization options on the product page.
5.Prestashop product customization addon is multi-lingual and multi-store compatible.
6. The multi-featured custom design panel which has been added using the Prestashop product customization module is mobile responsive. Moreover, it is compatible with different Prestashop themes.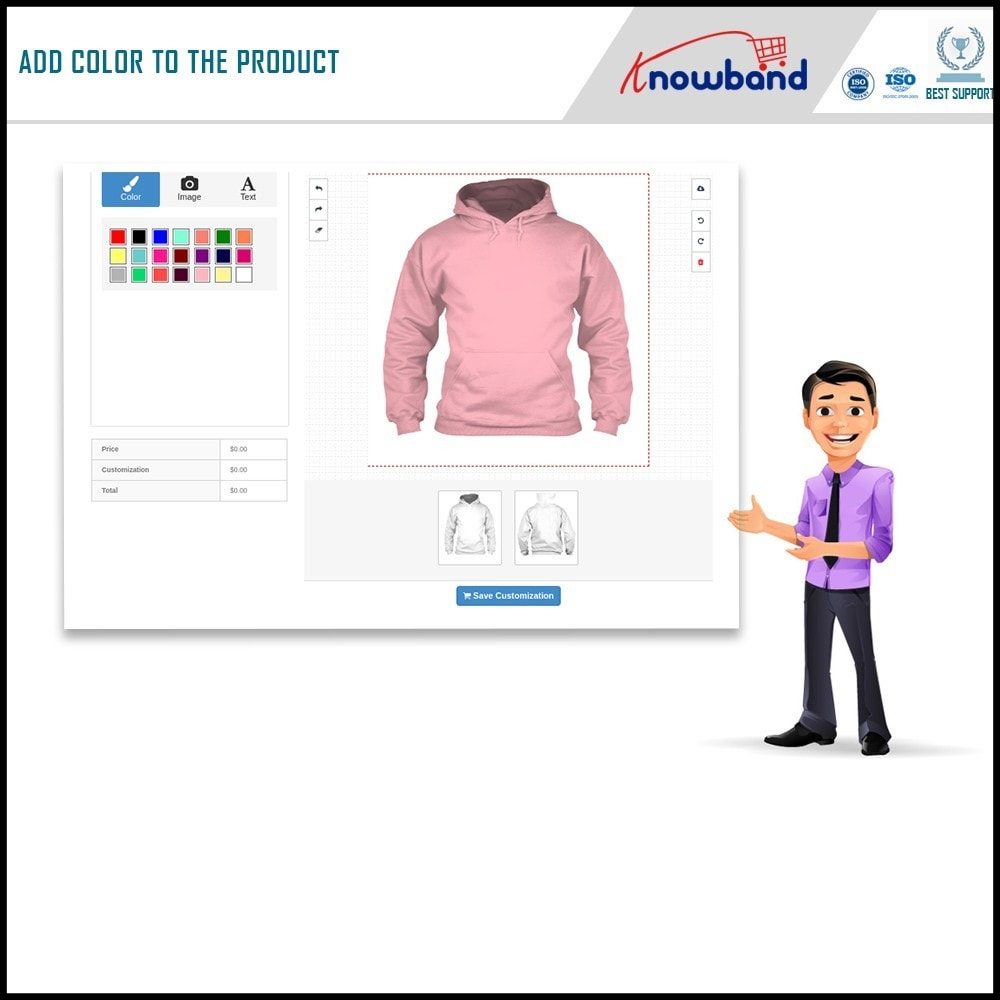 Installation Guide of Product personalization addon
For installing Prestashop product customization addon on their eCommerce store, the store admin must follow the steps down below.
1. First step is to download the addon package from the Knowband store.
2. Second, the store merchant needs to unzip the zipped file containing both the source code and the user manual. Moreover, to unzip the whole package in the root directory of your Prestashop store through FTP manager (like Filezilla or WinSCP – download here: http://filezilla-project.org/). Further, merchants will find the files as well as folders shown below:
Thus, the addon is ready to use as installed successfully. Further, store admin can configure the various configuration settings by their Prestashop site.
Conclusion
Prestashop Extended Product Customization module is beneficial for store merchants as well as store customers. Using this module, customers can easily layout their product with predefined pictures and make it right for their needs in real-time. Depending on the applied product customizations, clients can look at the pricing for their advanced product. This will help them to decide on a purchase.
The advanced product customizer module adds a user-friendly product design panel to the product pages. This way users can significantly add the desired touch to their product. Furthermore, the module offers a personalized shopping experience to the clients.
Lastly, Prestashop Product Designer/Customizer addon permits store customers to check the preview of product customizations on the same page. Hence, these features of the Prestashop Product Designer/Customizer addon makes it a must-have.